Lauren and Nick had there engagement pictures taken at The Art Institute Gardens in Chicago. They are an absolutely gorgeous and fun couple to photograph. We are so honored and excited to share with you their love story written by Lauren:
"A little over two years ago, I was living and teaching in Wauconda alongside Angela, a good friend of mine from college. Angela was heading up to Appleton, Wisconsin for the weekend to visit her boyfriend John and watch him play hockey. Angela invited me to come along and her words went something like this, "Come up to Appleton with me, you can meet John's roommate, maybe you'll like him." I packed a weekend bag and off we both went after school on Friday, happy for a weekend escape. That night we headed to the ice rink to cheer on their team, The Calumet Wolverines. The rink was lively and fun and after the game a group of us headed into downtown Appleton for drinks. Nick and the rest of the Wolverine hockey team were there. Nick and I soon struck up a conversation and proceeded to dance the night away. Nick still believes he won me over with his amazing dance moves.
When an allergic reaction to some body wash landed me in the E.R. the next night, I ended up spending the evening dozing instead of out because of the Benadryl they gave me. Nick was disappointed not to see me and tracked me down at the end of the night to check up on me. It became very clear to me that not only was Nick handsome and fun, but he was also a really nice guy.
The very next weekend Nick invited me to drive up to his hometown in Calumet, Michigan, the very tip of the Upper Peninsula. Nick showed me around all his favorite U.P. sights. We shared our first kiss together outside the Colosseum Ice Arena. Nick went on to score a goal in the game!
Nick asked my Dad for my hand in marriage in the pouring rain at the Bruce Springsteen concert at Wrigley Field in late August. He proposed to me on the cliffs in the Upper Peninsula, with our parents just a few miles away waiting to share in the celebration. I couldn't be more excited to spend the rest of my life with someone who makes me happier than I've ever been."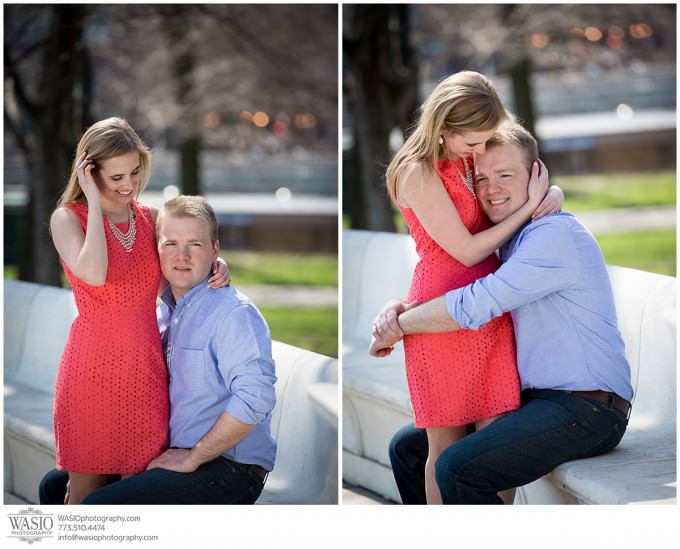 We love their photos! How about you? Share some love in the comment box.
If you or someone you know is looking for a Chicago wedding photographer to photograph the memorable wedding moments, we would love to hear from you! Contact us to check our availability and which wedding photography collection will be the best for you. Please drop us a line using our wedding photography contact form.