Evening Engagement Photos
This past year we had the honor of photographing Magdalena's and Jerry's wedding. This is the wedding where I got to be a bridesmaid and Izabela and Marcin happened to be part of the wedding party as well. It was an amazing time getting to know Izabela throughout the wedding planning process. When Izabela and Marcin got engaged we were so excited for them. They have been dating since 2012 and all of their friends and family were waiting for this amazing moment to happen. You can read about their amazing story below. I just have a few more comments before we begin! We have to give major credit to Izabela and Marcin for being such strong and brave troopers and making their evening engagement photos look like a piece of cake.
Their engagement session was on one of the coldest days in Chicago. Before the sunset we got to go on the Chicago Tribune building rooftop for some iconic city skyline portraits. As the sun was setting, we took advantage of the awesome holiday city lights. The grand finale was at the Palmer House Hilton Hotel, where they got to warm up and enjoy some signature cocktails.
He promised to sell his motorcycle for their future children
We met in August of 2012 at Stereo Nightclub. I was standing at the bar waiting for water and he ordered a drink and the bartender filled his order before mine so I rudely asked him to get me a water, which he complied. I think we chatted for a bit before he asked me to dance. We ended up talking for a long time outside and he showed me he knew some ballet moves. I overheard his friend say he was only 20 so I demanded I see Marcin's ID to prove he was old enough for me. I noticed he had an "M" on his license and asked if he had a motorcycle. He said he did but he promised to sell it for our future children! I should have ran, but here we are…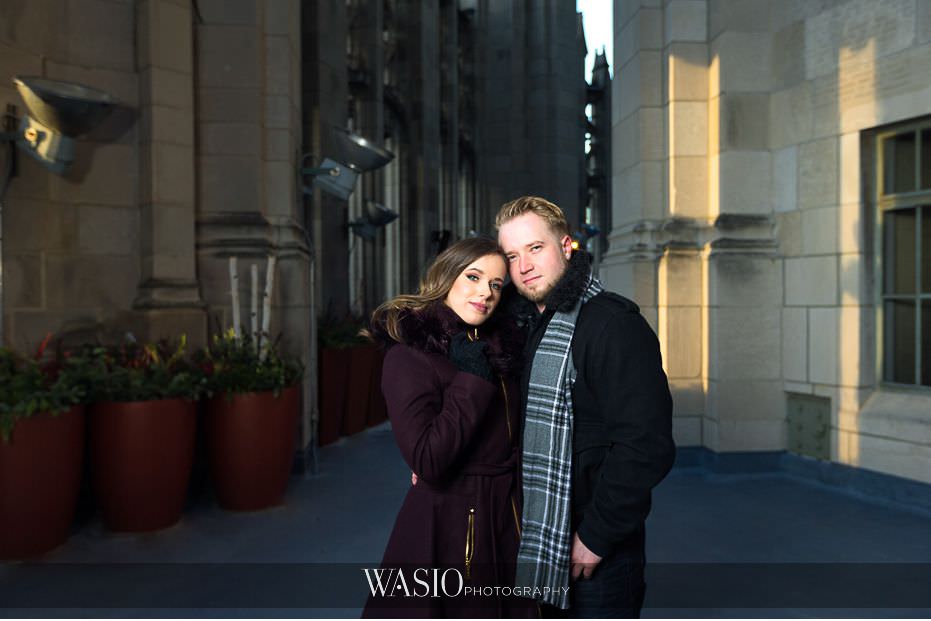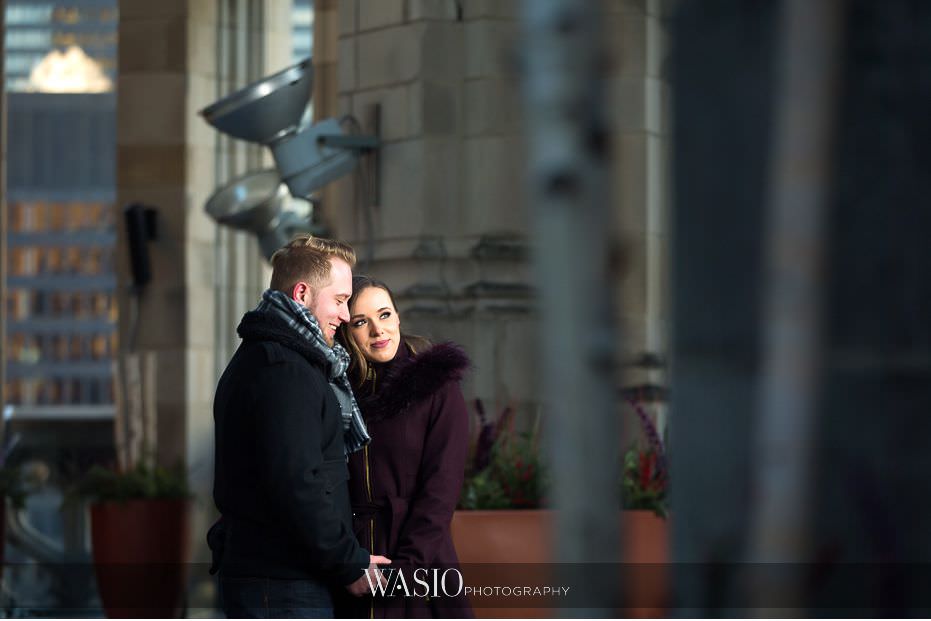 A total eclipse of the heart proposal
Marcin planned a weekend trip to Nashville to see the Solar Eclipse (dead giveaway – he never plans anything). The day before the eclipse, we had a tour at a vineyard. After the tour, he led me to a secluded spot with a picnic blanket and champagne and proposed. Even though I knew he was going to propose eventually, I was still overcome with emotion. The amount of planning and effort he put into planning that entire trip made the proposal even more special.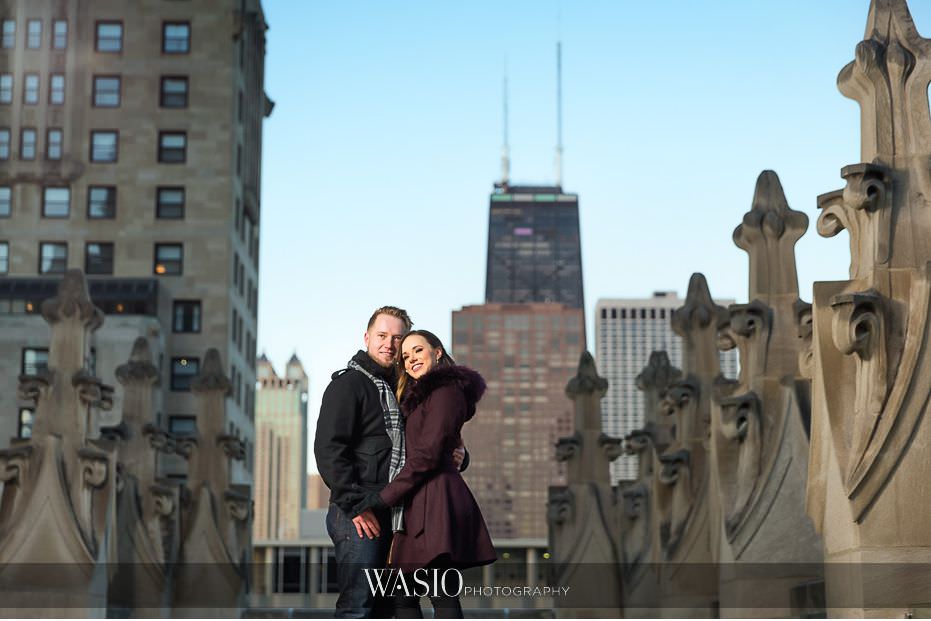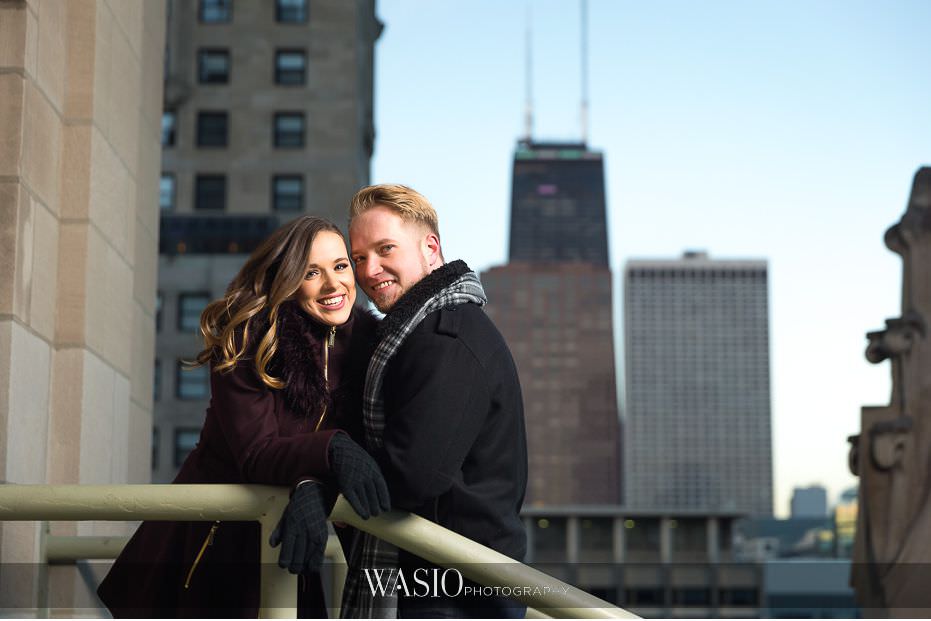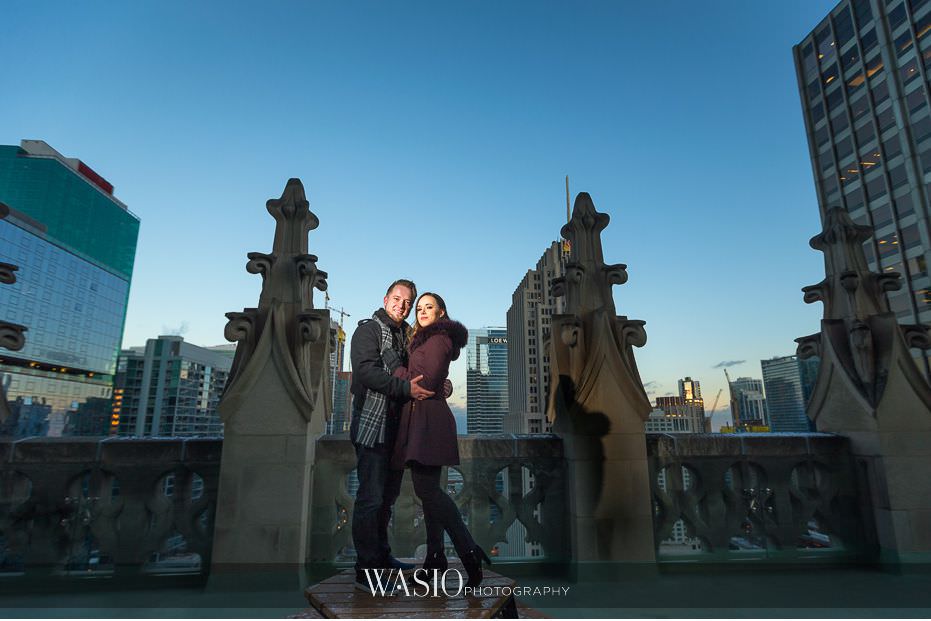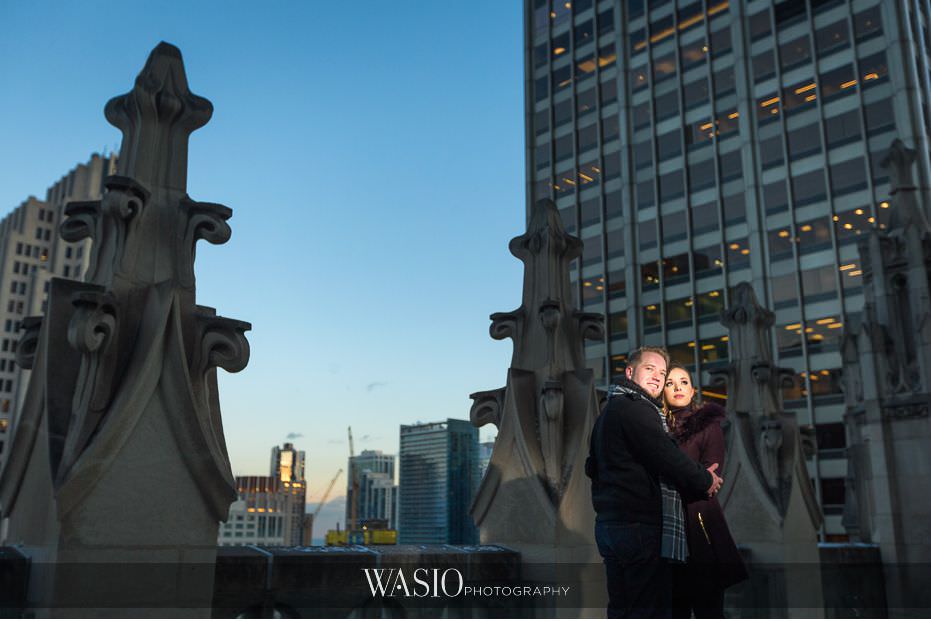 Good wine and scientific discoveries
Marcin and I love to go out to dinner and try out new restaurants. On evenings, we like to ride out bikes and spend time with our puppy. In colder months, we like to open a bottle of wine and watch YouTube videos about physics and scientific discoveries. We get into really deep conversations about topics most of our friends find boring – but we love it. We love to learn. I know Marcin will always be the person I can't wait to spend time with because he always has something interesting to talk about.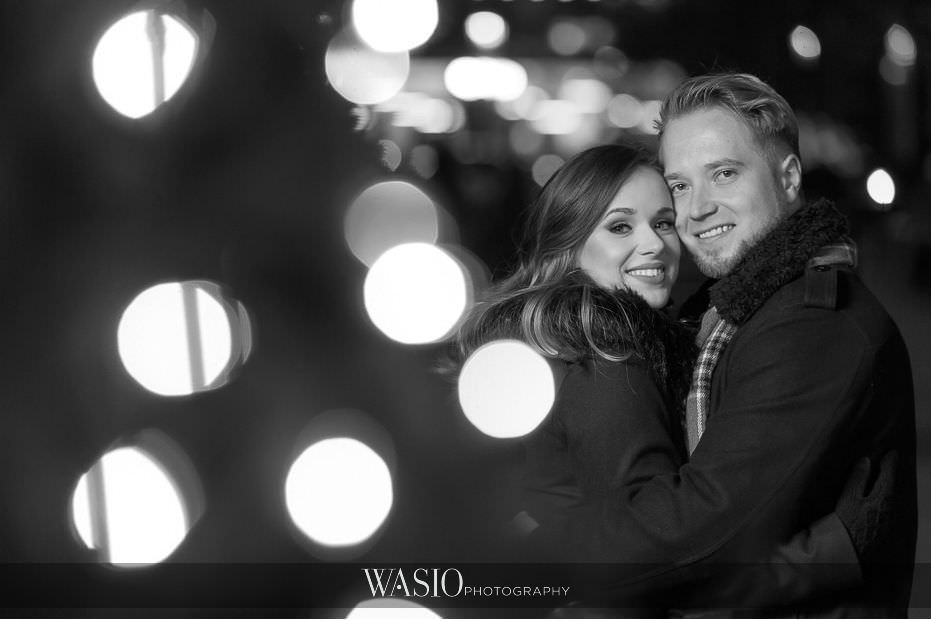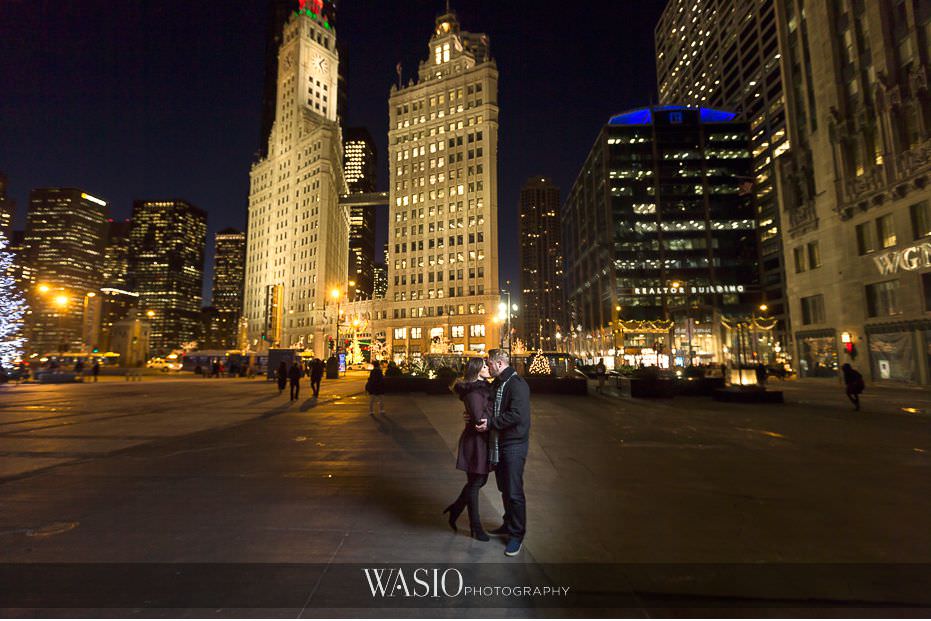 Evening engagement photos in the winter time
We knew we wanted a winter engagement  shoot because we both love cold weather and the way the city looks around the holidays. The Tribune Tower because we love the high arches of the crown – they remind us of Harry Potter. We were really happy Yaneck suggested Palmer House because one of our favorite dates was there – we highly recommend the Magic Parlour!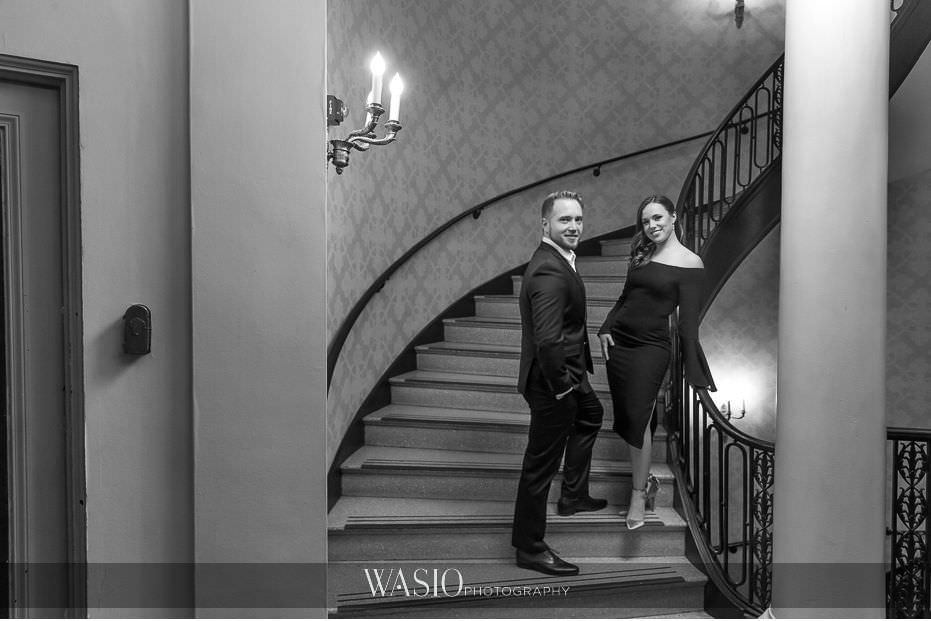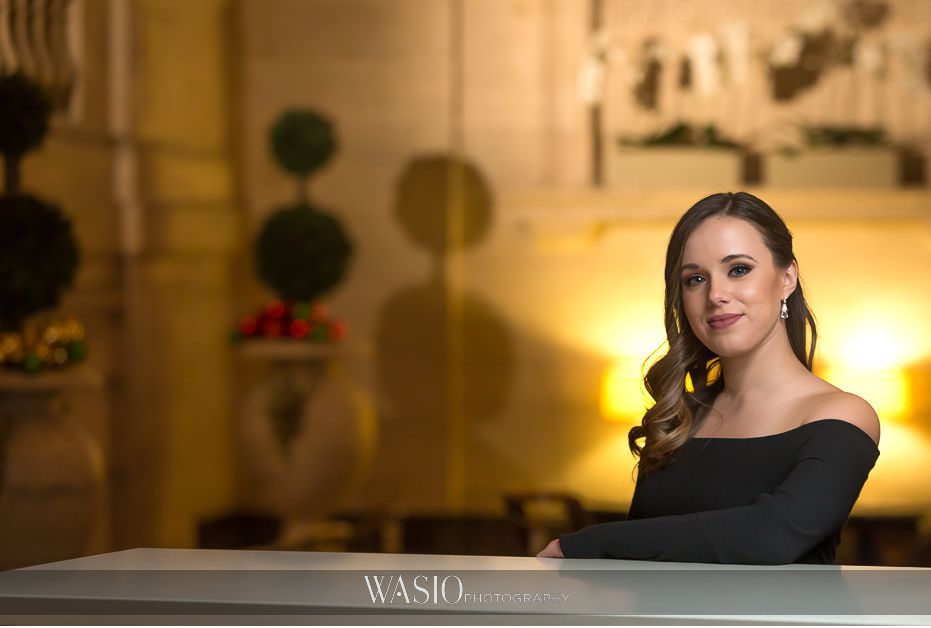 Wedding day excitement
Marcin is really looking forward to seeing me in my wedding dress (which makes me nervous – what if he doesn't like it?!). I am looking forward to our first dance but, more importantly, our vows. We have been committed to each other for a long time now, but there's something special about saying those words out loud in front of our family and friends.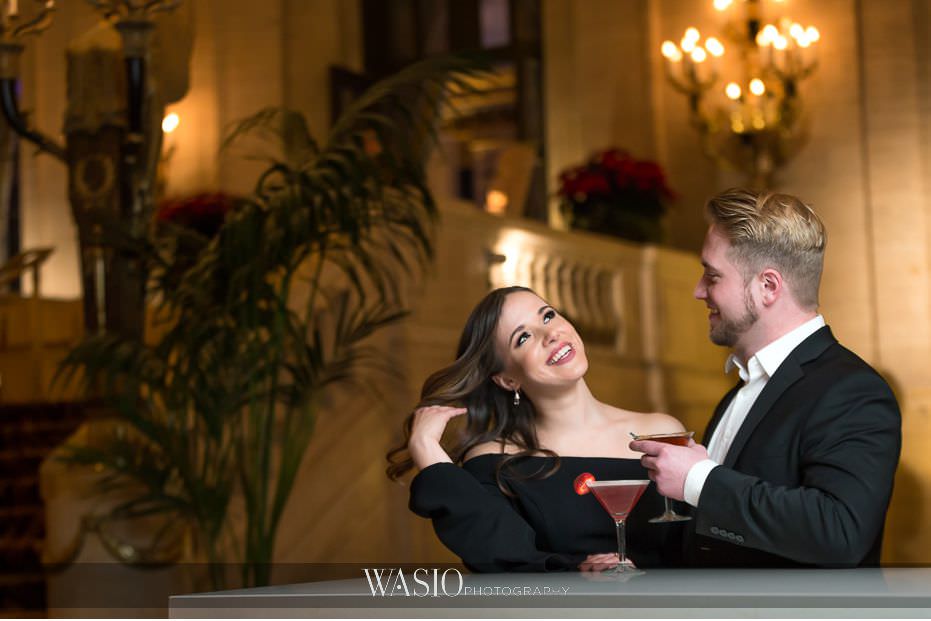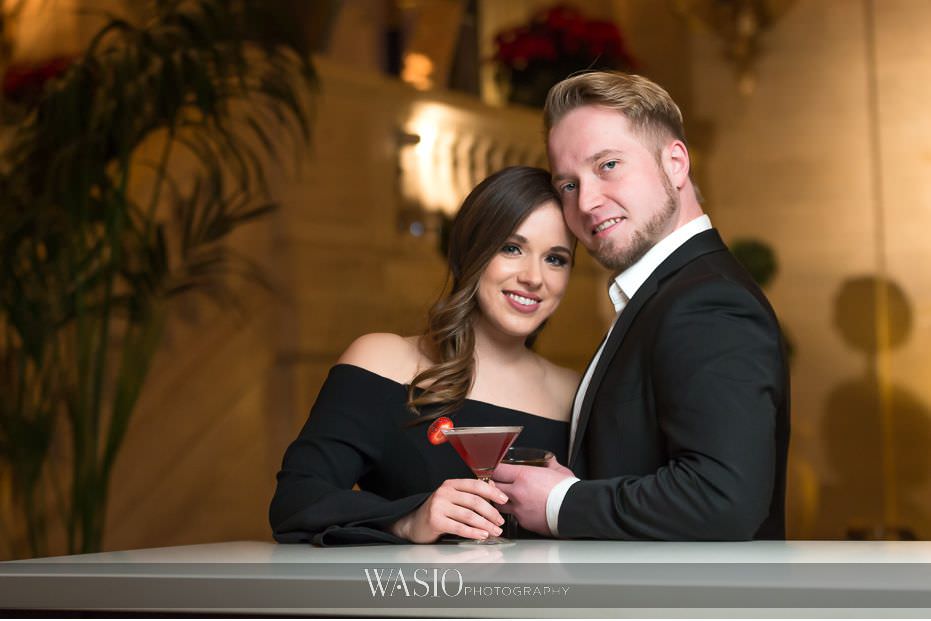 We love that Izabela and Marcin really took the time to share more about themselves. This makes us even more excited to document all of the magical moments that will happen on their wedding day! We hope you enjoyed their evening engagement photos. Please leave some advice for them whether it's something wedding or science related! This engagement session was photographed by Yaneck.