Yesterday was so exciting because we got to capture a surprise romantic proposal in downtown Naperville. Mike was very thoughtful and created a nice scavenger hunt for Alina. She woke up yesterday with a flower and a note attached to it. The first note led her to a nail appointment at Michael Graham Spa. At the end of her spa time, she received a second clue that said, "Now that your nails look great, go have a slice where we had our first date". At Giordano's they were waiting for Alina's arrival and prepared a special heart shaped pizza. After finishing her meal she received a third clue that said, "I hope you're ready for a fun week, head to the place you first kissed me on the cheek". The last and final note to Alina was, "What happens next, you'll love to know, meet me by the fountain/gazebo." It was such a fun adventure to capture part of the scavenger hunt and the romantic proposal. Paula, the owner of Pink With Diamonds is the one who created the beautiful engagement ring and helped plan the proposal.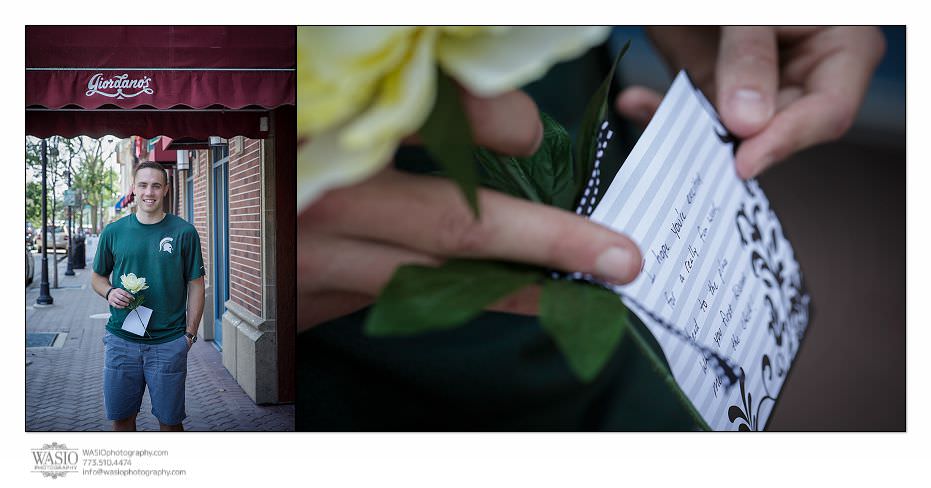 "Alina and I met at North Central College in Naperville. We have been together for 5 years. The geographical path of our relationship has been far stretching, but our beginnings were in Naperville. Our first date was at Giordano's on May 28th, 2010, and I knew that night that I never wanted to be with another girl."
Alina receiving the third clue which led her to go to the place she first kissed Mike on his cheek.
We took this photo right before Mike walked over to the bridge to propose to Alina. In his left hand he his holding the box with the ring! Paula and I were pretending to be random strangers and asked them if they wanted a photo together because they looked so cute:)
She said yes! We got to walk around Naperville and take a few photos before they went out to dinner with family.
We hope you enjoy Alina's and Mike's romantic proposal. If you or someone you know is looking for a Chicago wedding photographer to photograph the memorable wedding moments, we would love to hear from you. Contact us to check our availability and which wedding photography collection will be the best for you. Please drop us a line using our wedding photography contact form. This session was photographed by Sasha.