California Destination Wedding
California is one of the best locations for your destination wedding. It's hard to beat the various climates, scenery, and the fact it's only couple of hours away from practically any location in the United States.
California Weather
California is obviously bit state and the climate drastically varies from Southern California to northern parts in the Bay Area or high mountains destinations where snow winters are common. The best bet for all year around pleasant weather is Southern California especially closer to the coast with such locations such as San Diego, La Jolla, Laguna Beach and many other beach cities and town along the coast.
Northern California has predominantly warm summers but winters may be cooler, wet and in higher parts of Sierra mountains covered with snow. Because of the cooler climate the vegetation is very different from the rather desert and tropical landscape of Southern California.
For the most detail information about California Climate refer to Wikipedia California Climate article.
California Wedding Destinations
Here are our picks for some of the most beautiful, romantic and spectacular destinations in California for your wedding day. Of course, California has a lot of destinations but the ones below are our top choices.
Napa Valley
One of the most popular destination in California is of course Napa Valley - the most famous wine region in the US. Napa Valley is located north of San Francisco and it's an area with spectacular hills and of course hundreds of vineyards.
Overall climate in Napa valley is pleasant but June, July, and August are the hottest months with average temperatures staying in the high 80s to low 90s.
Since Napa Valley is such a popular destination you need to reserve your date long in advance and be prepared to pay Northern California premium for venues and all services.
Check out a Napa Valley Wedding we photographed at Charles Krug Winery.
CONTACT US NOW
don't miss this opportunity
San Diego
San Diego destination is a wonderful idea for your wedding day! San Diego is the most Southern city in California just 15 away from the border with Mexico. Compared to Los Angeles area and other Northern California cities, San Diego is rather a relaxed city, with people enjoying their lives at a slowly slower pace.
For wedding photographers San Diego offers so many beautiful locations and of course one of the best climates. Due to its closeness to Pacific Ocean and the Bay, San Diego winters are mild and not too cold and summer days rarely get into 90s. Most summer is in the high 70s to mid 80s.
San Diego usually sees last rain around April/May. Then till late November a chance of rain is close to zero. May & June months are often cloudy and foggy in the morning and get get sunny and bright by mid-day. Rest of the summer is simply gorgeous with every day sunny days and clear skies.
Top choices for wedding destination in San Diego are:
- Balboa Park- the most famous part in San Diego build in Spanish Colonial Revival architectural style. Balboa Park has 25+ venues! Our favorite ones are The Prado and San Diego Natural History Museum. Besides venues, Balboa Park has truly amazing architecture all around, the Famous Balboa Park Fig Tree, a Japanese Garden, Botanic Garden, Artist Village, and the Organ Pavilion.
- Gaslamp Quarter - right downtown San Diego is the historical neighborhood of Gaslamp Quarter. We used to live there and were honored to be official photographers of Gaslamp Quarter. This famous part of San Diego has some of the best venue in San Diego such a US Grant Hotel, Luce Loft and Venue 808, The University Club Atop Symphony Towers.
If you are a baseball fan The Skybox at Diamond View has spectacular views of the San Diego Padres stadium, the whole downtown San Diego and the bay with views of Coronado Island.
Right next to Gaslamp Quarter there is one of the most famous San Diego hotels and absolutely amazing destination venue - Manchester Grand Hyatt. This is the ultimate landmark of San Diego, with incredible views of both downtown and the bay.
- Little Italy - this intimate and charming part of San Diego is a great destination in San Diego for your wedding. It's filled with restaurants and of course beautiful wedding venues such as El Cortez Don Room and The Westgate Hotel,
- Shelter Island - this a narrow piece of land by Point Loma on the North San Diego Bay. It's called an island but in reality it's a peninsula. There are two wedding venues there that are great for smaller wedding but with some incredible resort-like feel and some of the best views of San Diego. The first venue is Kona Kai Resort & Spa and the second wedding venue is Bali Hai Polynesian restaurant
- Sunset Cliffs - this is one of the most beautiful part of San Diego. The dramatic coast with high rocky coast, numerous caves and golden colors of the sandstone. During spring and early summer, it's common to spot Gray whales migrating from Bearing Sea to Baja California in Mexico. Our favorite venue in Sunset Cliffs is for sure The Thursday Club. This venue has beautiful views of the ocean and has a nice historical feel. We love quickly grabbing our couples just before sunset to go down the road few blocks to capture that beautiful sunset portrait!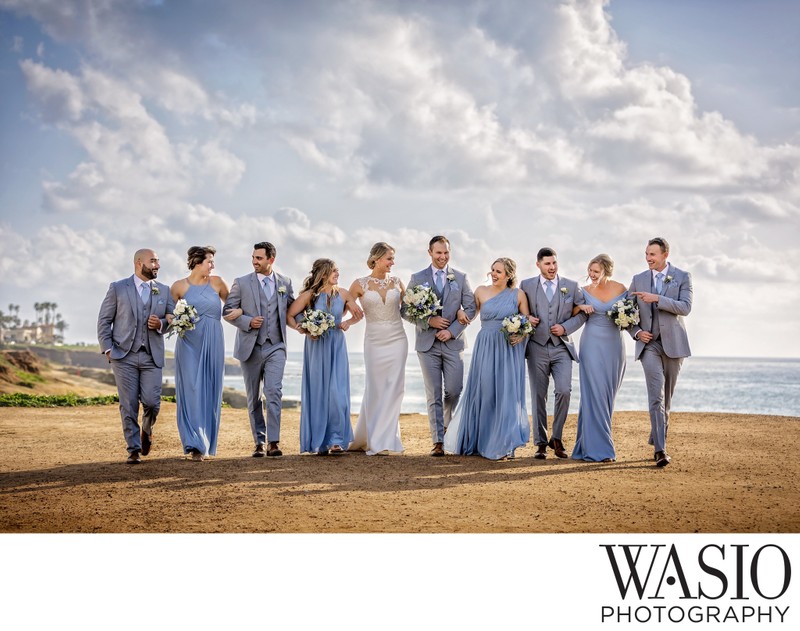 Catalina Island
Are you looking for a wedding destination in a more secluded place away from all the everyday rush activities? Then Catalina Island may be a great choice for your wedding day!
The best way to get to Catalina is on a ferry that depart from either Newport Beach, Dana Point or Long Island. Don't expect to see many cars on the Island! Cars are very restricted on the island which makes it even more special.
There are many fun activities on the Island so we recommend spending few days there as part of a wedding weekend with your friends and family. This is truly a destination wedding spot.
One of the most popular venues on the Catalina Island is Catherine's Terrace at Descanso Beach Club. This is an oceanfront venue that has banquet space for up to 150 people. Reception can also be planned outdoor especially since the climate is so pleasant on the island. Of course Catherine's Terrace offer outdoor ceremony and gorgeous ocean views.
The other popular venue on the island is Catalina Country Club. This is a very stylish landmark of Early California Revival architecture. Most ceremony and receptions take place outdoor at this country club . There is also a chic Mediterranean style dining room for up to 65 guests. Outdoor weddings can accommodate up to 120 guests.
Temecula Valley
Temecula is another wine country in California. It is located in the Riverside County in the Southern part of California. As Temecula is about 800 miles south of Napa Valley, the climate is much hotter there. You must be prepared to really high temperatures from June to October.
As Temecula is a wine country most venues will be various vineyards. One of the most popular ones is Mount Palomar Winery, Wilson Creek Winery, Miramonte Winery, Ponte Inn, and Paradise Falls. There are 50+ venues in that area so you have will have plenty to chose from. The beauty of Temecula Valley area is that you can schedule a wedding in sprint & winter months and enjoy a fully outdoor or semi-outdoor wedding.
CONTACT US NOW
don't miss this opportunity
La Jolla
La Jolla is famous for its breath taking views and ocean shore lines, seals, and upscale life style. La Jolla is only 12 miles from San Diego so it's an easy transportation from San Diego international airport.
La Jolla nicknamed "the jewel" of San Diego definitely won't disappoint you. It has for sure some of the most popular beaches in California and its beaches are one of the most famous in the world.
On your destination wedding time you will find plenty of other activities in La Jolla. Some of the most popular ones are of course shopping, kayaking, exploring the caves, seal watching, and hiking in Torrey Pines natural preserves where you will experience some of the best ocean views in Southern California.
Our favorite beach in La Jolla is Windandsea Beach. This beach offers various looks from pure-sand to rocky shores. Combining the beautiful nature landscape with some breath taking sunsets and we have the most beautiful place in the world.
Our two favorite venues in La Jolla are Darlington House and Estancia La Jolla Hotel & Spa. Darlington House is a historical mansion with stylish interior, variety of rooms and spectacular outdoor area. All wedding ceremonies and receptions take place outdoor.
Estancia in La Jolla is incredible upper scale hotel and resort. It has meticulous landscape, Spanish style architecture, plenty of garden areas. There are two ceremony areas and two ballrooms easily hosting 100+ guests each.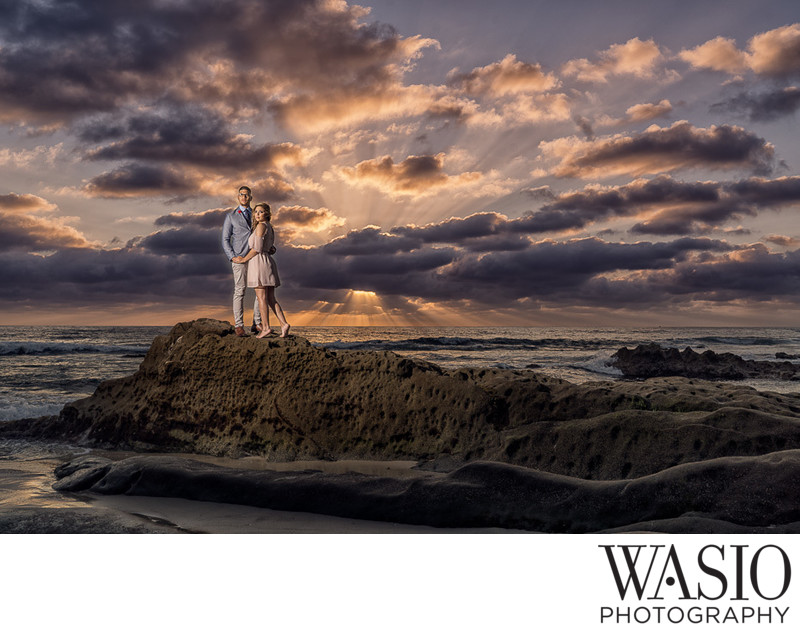 Coronado Island
Coronado Island is a picturesque part of San Diego County. Even though it's called an island it is actually connected to the mainland through Silver Strand - a peninsula with gold sand beaches, park and Yacht Club of Coronado Cays.
The most popular way to access the Coronado Island is by the Coronado Bridge.
There is no doubt that the most famous and popular wedding venue on Coronado Island is the Hotel Del Coronado. It's famous white walls with reddish roofs are easily recognizable and found on many photos and postcards. Officially the architecture of the hotel is called Wooden Victorian Beach Resort. When it opened in 1888 it was the largest resort in the world! The Hotel Del Coronado was featured in many movies, but of course the most famous was "Some Like It Hot" with Marilyn Monroe.
Hotel Del Coronado offers outdoor wedding ceremonies overlooking the spectacular bay views and Point Loma hills. The outdoor ceremony can be either on the Del Beach or Windsor Lawn.
For receptions Del Coronado Hotel offers 4 different size ballroom: Coronet Room, Ballroom, Carousel Room and the most famous Crown Room with crown chandeliers.
The other venue on Coronado Island is the Coronado Community Center. Don't get fooled by the name of this place. Yes, it's a community center but the location is fantastic and with proper decoration this venue shines. Cocktail hours are just outside the venue with views of the Bay and San Diego. We don't need to mentioned the breath taking sunsets that can be enjoyed right from the ball room.
Also, Coronado Cays Yacht Club is a nice wedding venue if you would like your wedding to closer to boats and have a marine theme. This is a smaller venue but offers lawn ceremony space and indoor ballroom. Dance floor can be set either indoor in the ballroom or outdoor on the terrace with views of the Bay.
CONTACT US NOW
don't miss this opportunity
Location: Orange County California.