San Diego Manchester Grand Hyatt Wedding
This iconic hotel is easily recognizable with it's signature towers that overlook the San Diego Bay and Sea Port Village. Manchester Grand Hyatt San Diego is one block away from the San Diego Convention Center and the heart of Gaslamp Quarter.
It offers some of the most breathtaking views of San Diego's Downtown Skyline, Coronado Island, San Diego Bay and Pacific Ocean. This is truly a luxurious hotel that will give you and your guests the ultimate Southern California vibe.
This spectacular hotel hosts events and weddings. There is literally enough real estate for multiple events at once and they'll never run into each other. There are seven different ballrooms to choose from that have capacity ranging from 80 to 1,000 guests.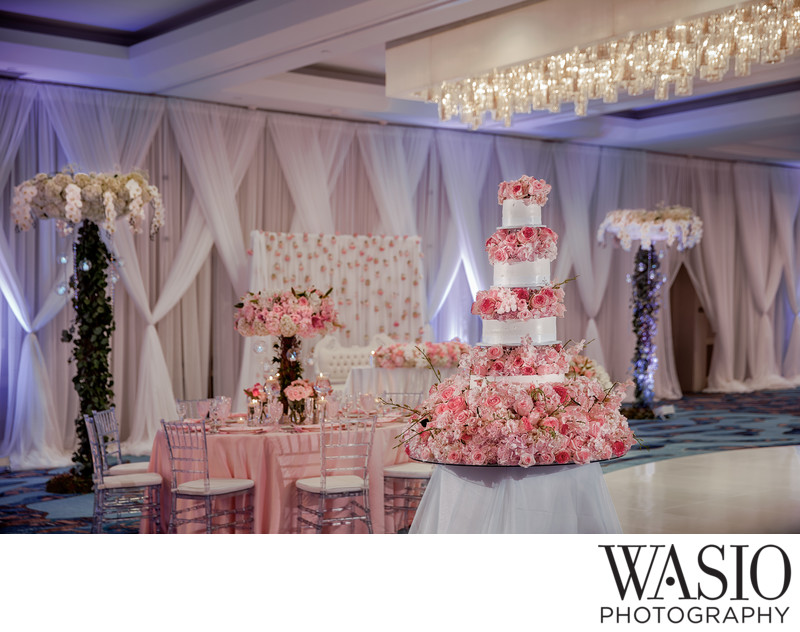 This hotel has picturesque views from the different hidden balconies as well as the bar at the top floor. The pool area is the perfect spot for sunset portrait photos of the bride and groom like the photo below.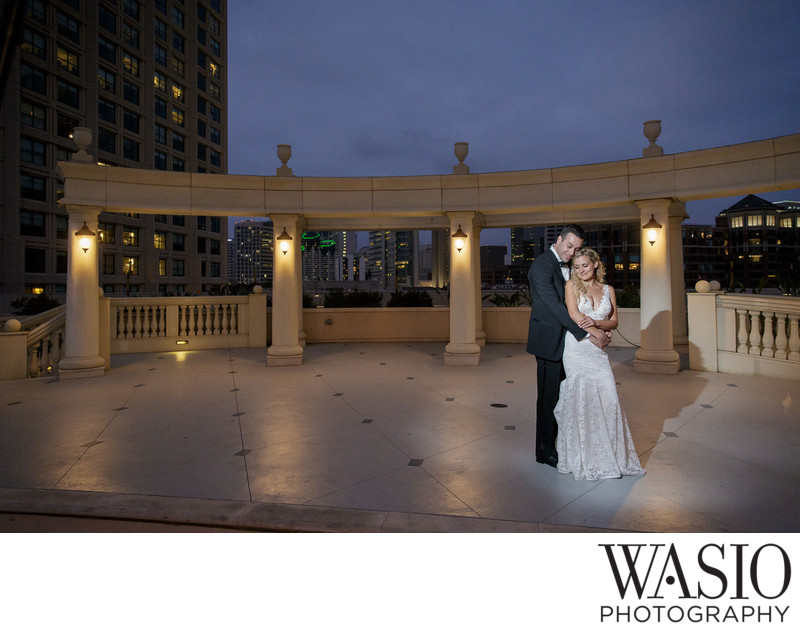 There are signature suits that are considered to be a penthouse. Treat yourself and your wedding party to get ready in one of those grand rooms with unique views only offered by Manchester Grand Hyatt.
Thinking about having a first look? The Bayview Room on the top floor is the way to go. It has a private balcony that you can reserve that overlooks both the bay and downtown skyline. This location is extremely photo worthy! You can start here with a first look and add in your wedding party afterwards to get iconic images.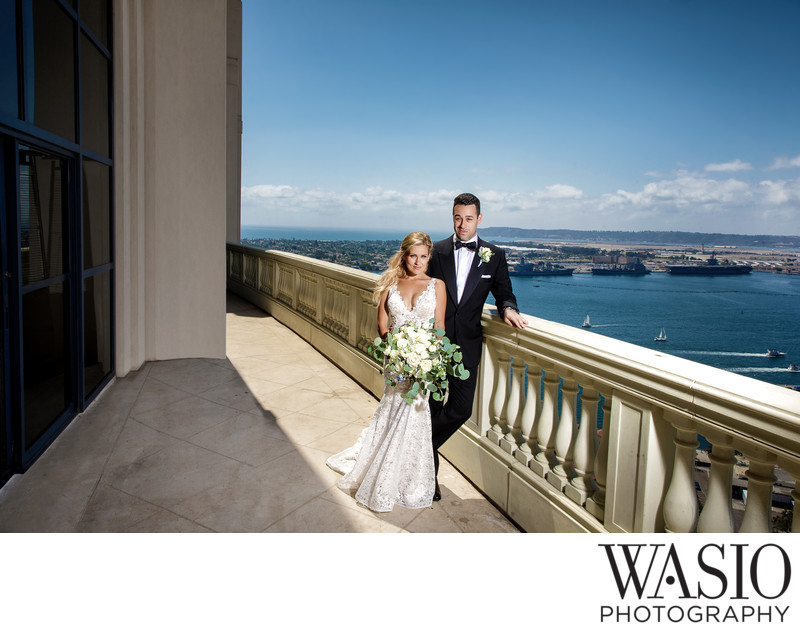 Also, since Manchester Grand Hyatt San Diego is walking distance to the Embarcadero bay. Some couples choose to have an outdoor ceremony right on the lawn at Sea Port village that overlooks the bay and Coronado Island bridge. It is a bit of a walk but you can have a shuttle drive guests from the hotel up to the park.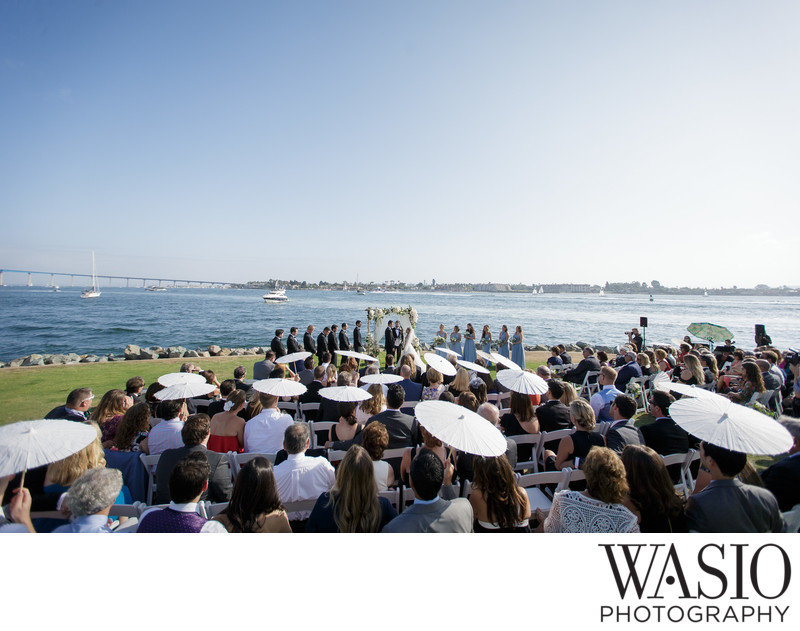 The hotel has a very nice and fresh upscale charm. There are no cheesy carpets or draping to deal with. It is very modern, clean and minimalist in a pleasing way.
Whichever ballroom you choose to host your wedding, it will be a night to remember both by your friends and family.
The Coronado Ballroom is a popular choice for couples. It can accommodate up to 450 guests. This is a popular choice because your guests can enjoy cocktail hour at the Coronado Foyer and Terrace which has a balcony overlooking the San Diego Bay.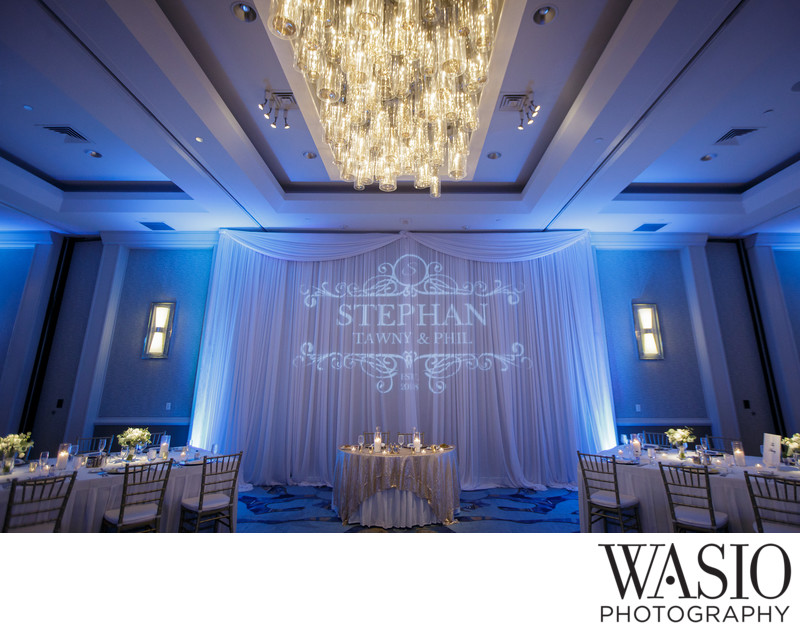 Location: Manchester Grand Hyatt San Diego: 1 Market Pl, San Diego, CA 92101.