Top San Diego Outdoor Locations
TOP SAN DIEGO OUTDOOR PORTRAIT AND ENGAGEMENT LOCATIONS
Whether you are visiting or live in San Diego, this is a helpful guide to some of our favorite locations. This will help you save time doing the research for locations that may require permits. Some of the locations we listed are very popular tourist destinations. To avoid heavy foot traffic, we recommend scheduling your portrait or engagements session at sunrise.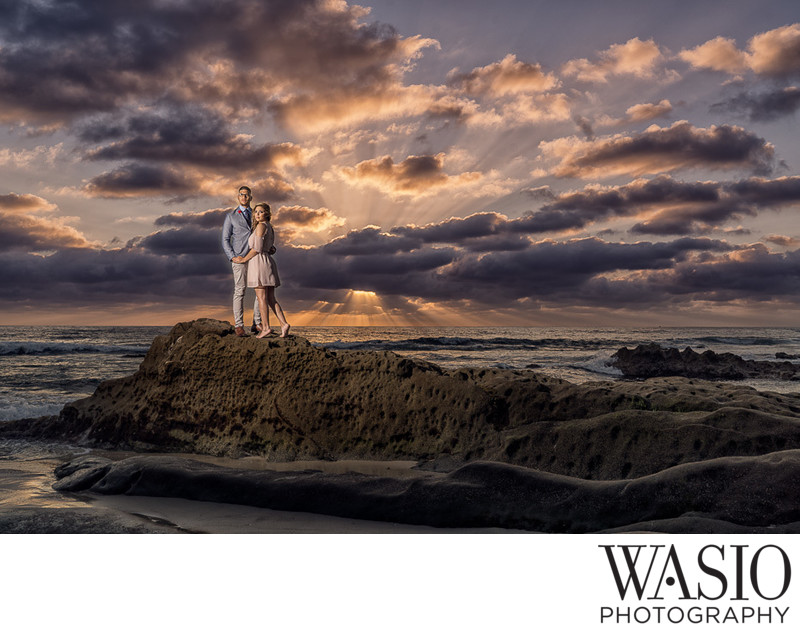 If you are looking for a more dramatic photo with either sunrise or sunset lighting, we strongly recommend going for the sunset session. We've learned that at sunrise we don't always get nice views because it could be very gloomy in the morning but seems to clear up mid-day. For sessions longer than 1 hour, we recommend choosing locations that are very close in proximity to not waste too much time on travel.
Please let us know if there's a location you are interested in that you do not see listed below. We will be happy to do the research and discuss more of the details.
GASLAMP QUARTER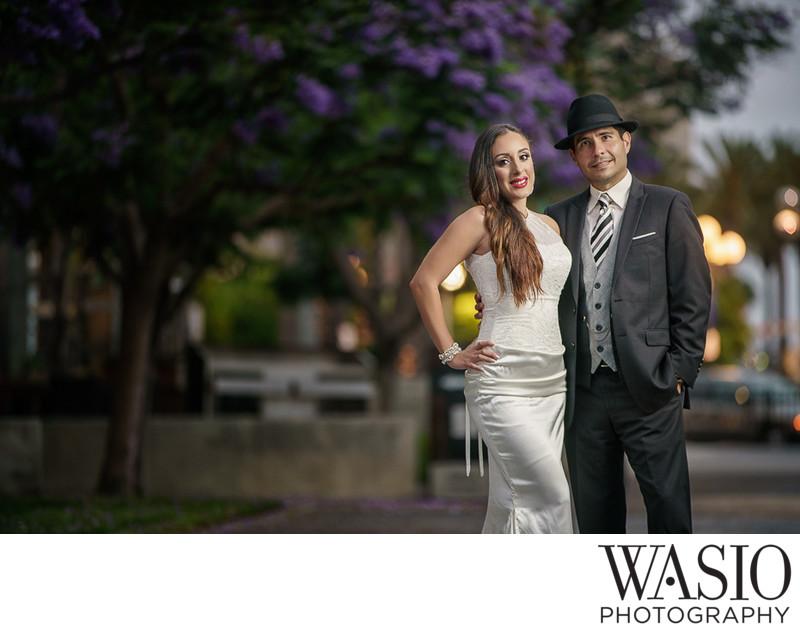 This is the headquarters of WASIO photography. We are also the official photographers for Gaslamp Quarter. We know this turf well.
Gaslamp Quarter is in the heart of lively downtown San Diego. You'll find a cool mixture between historic buildings, modern rooftops, dive bars, and cocktail lounges. If you love brick buildings, the city has a lot of cute bricks to offer. There's the iconic Gaslamp Quarter arch on Fifth Avenue.
Most of the restaurants and hotels that have rooftops will let you photograph with the proper proof of permission. There's also the convention center but a permit is required to photograph on their property.
Catch something to watch at the Spreckels or Balboa theaters after your engagement session.
EAST VILLAGE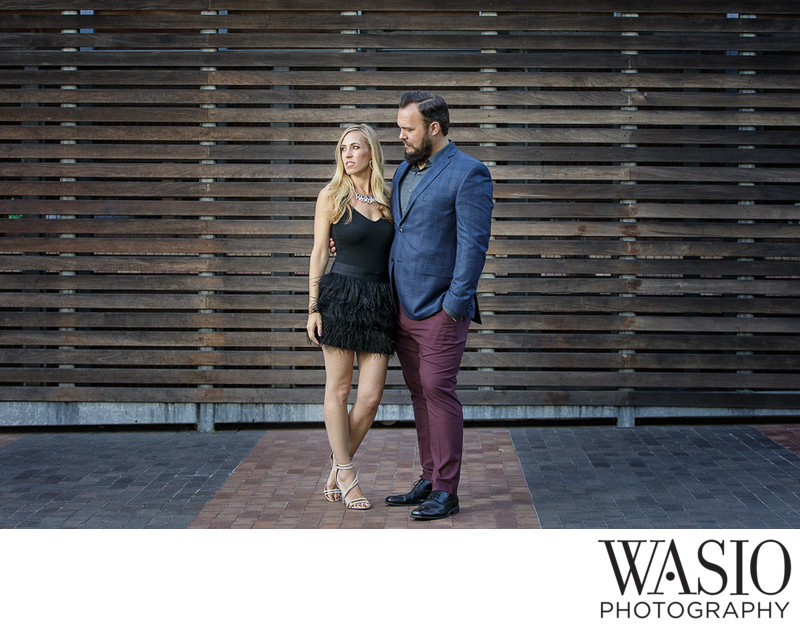 East Village is located downtown San Diego right next to the Gaslamp Quarter. East Village is an evolving mixture of hip bars, cool high-rises in combination of old warehouses, Victorian homes converted into pubs, and of course the Petco Park Baseball Stadium (Go Padres!). There's an actual park in Petco Park that constantly has something blooming. You can photograph there if there's no game going on (otherwise you must pay the lawn seat fee).
The restaurants in East Village and around Petco Park have no issues with you photographing inside. Just purchase a drink and let your photographer do all of the work.
After your engagement session walk over to the Quartyard Plaza which offers a craft beer garden, food trucks and awesome live music.
SUNSET CLIFFS NATURAL PARK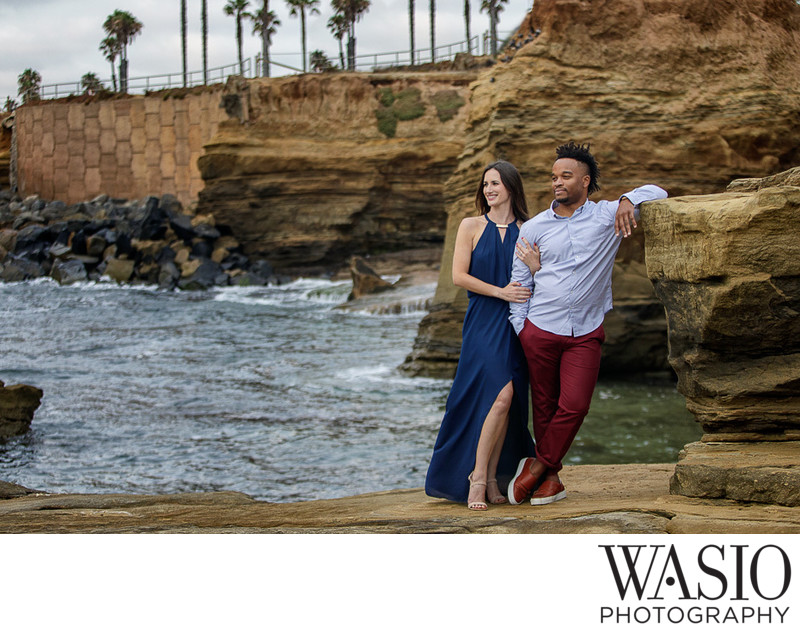 If you want an epic sunset, then Sunset Cliffs Natural Park is your go to place. The natural cliffs overlook the Pacific Ocean and offer breathtaking views. We don't recommend coming here for sunrise because it's super gloomy there in the mornings. The gloom clears out by noon.
Despite this being a popular location, there are enough cliffs to feel like you have the place to yourselves. It all depends on the water levels but there are some off the beat paths to go down and get closer to the water.
There is no photography permit required to photograph an engagement or portrait session at sunset cliffs.
We recommend packing a picnic basket with your favorite snacks and a bottle of your favorite bubbly to indulge as the sun begins to set.
LITTLE ITALY
The chicest and most pedestrian-friendly neighborhood San Diego has to offer. You'll discover the trendiest cocktail bars, pubs, and restaurants. There is also a super cute Farmers Market called Mercato there every Saturday.
This is a great location if you would like a combination of city meets lifestyle. You can incorporate the farmers market (you can find the most beautiful and photo worthy flowers there), a small cozy restaurant and something in the middle of India Street by the Little Italy sign.
There is no permit required to photograph at the Farmers Market. We do recommend arranging the restaurant ahead of time for us to photograph there. I am sure they won't mind, especially if we give them a shout out on social media.
Bring your "Learn Italian" pocket book and have some of the freshest homemade pasta the city has to offer.
NORTH PARK
Are you a Hipster? Student? Young professional? Then this is the perfect trendy location for you. With Instagram worthy Macha and coffee shops, you know your engagement pictures will be perfect. Schedule your engagement session on a Thursday to include a lifestyle feel with the Market that has live music.
There are no permits required to photograph around the market or the area in general. If you decide to go into one of the cute Instagram worthy buildings, we'll just ask politely to take a few photos inside.
Leave some room for dessert! There's Hammond's Gourmet Ice Cream shop that features imported flavors from Hawaii.
BALBOA PARK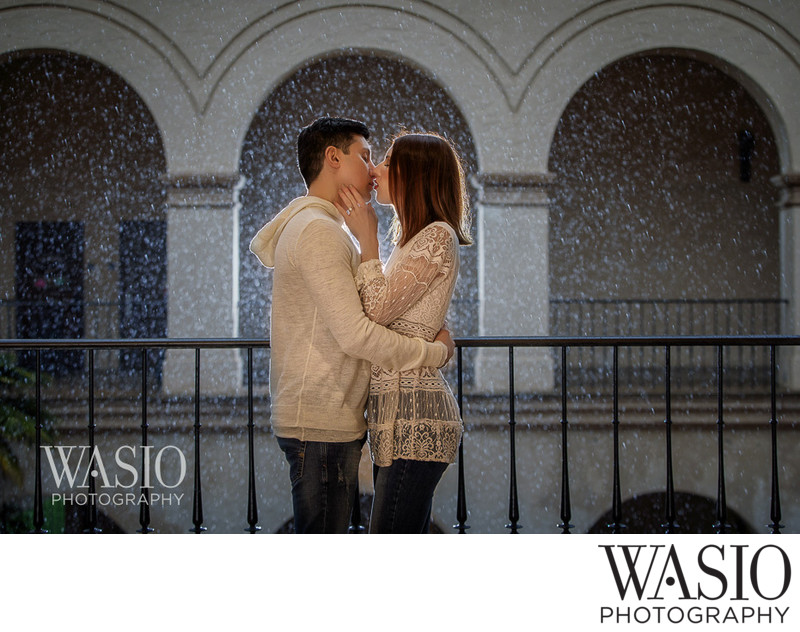 In 2018, Balboa Park celebrates its 150th Anniversary. The Panama-California Exposition celebrated the opening of the Panama Canal in 1915 and was the first exposition that created the cultural institutions and architecture we see at the park today. The second major influence was the 1935 California Pacific International Exposition held to boost the economy during the Great Depression.
A one of a kind landmark that San Diego is super proud to have. It's a gigantic urban cultural park. Filled with gardens, mesmerizing Spanish style architecture, museums, and the world-famous San Diego Zoo.
This historic park is considered one of the great places in America. We recommend scheduling your engagement photos during the week to avoid the massive weekend crowds. Unbelievably, one time we practically had the whole park to ourselves because it was raining.
Most of the park does not require a permit for an engagement session. The Japanese Friendship Garden has a $35/hour photo session fee. You can also buy out tours for the California Tower, so we can take advantage of the beautiful architecture and incorporate it into your photographs without there being any crowds.
After your session, make time to walk around and explore the 17 different museums Balboa Park has to offer.
SEAPORT VILLAGE
Seaport Village is nestled between the San Diego Convention Center and the San Diego Bay. It's considered a waterfront shopping and dinning center. In combination, there are over 70 restaurants, shops, and galleries by the waterfront.
What we really love about this location is the mix of Victorian and traditional Mexican architecture along with some greenery and trees. In addition, there are scenic views of the bay; and Coronado Island is right across from Seaport Village. There is a long pedestrian walkway that has a bicycle lane. How romantic would it be to ride your bikes into the sunset? We recommend scheduling your engagement session for this location at sunset during the week to avoid the touristy crowds.
After your engagement session you can grab a tour of the bay on one of the boats or just enjoy the views of the bay while eating a Ben & Jerry ice cream cone.
HOTEL DEL CORONADO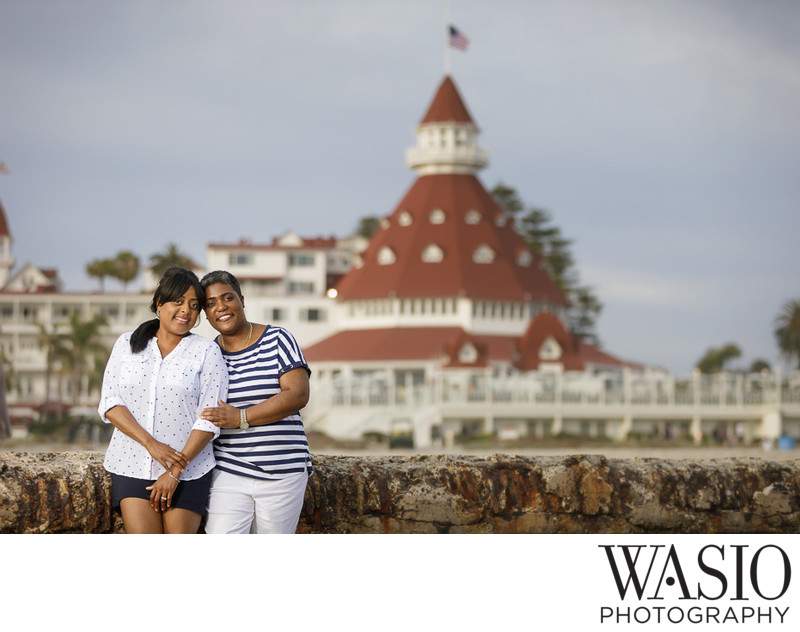 Hotel Del Coronado was built in 1888. This hotel is considered both a National and California historic landmark since the 70's. Fun fact, The Del is the second largest wooden structure in the United States. You may have seen this hotel in the movie "Some Like It Hot" starring Marilyn Monroe. This was also a preferred vacation spot for President John F. Kennedy.
There's a beautiful beach right behind the hotel. During the weekday we find it to be less crowded. Depending on the weather, you may even have the beach to yourselves. We can peak inside the hotel and get a few shots, but we really recommend the beach where you have the hotel in the background.
Both sunrise and sunset will be epic for your engagement photos. You can also see Cabrillo National Monument Park from the beach.
Also, if you want to incorporate your fur baby in the session, there is a section designated as the dog beach just a little further down the shore.
After your engagement session you can catch some sand dollars from the beach and then walk around and explore the cute shops on the island.
CABRILLO NATIONAL MONUMENT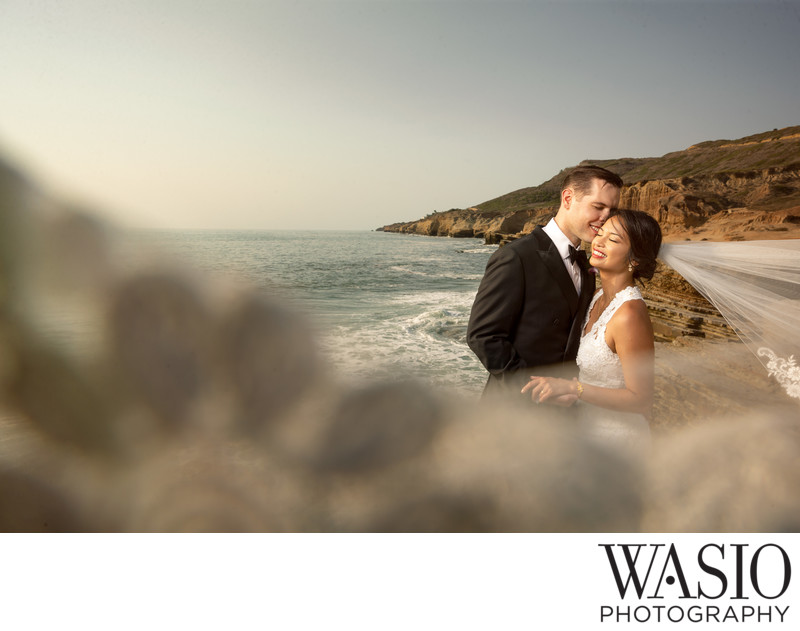 The Cabrillo National Monument celebrates the landing of Juan Rodrigues Cabrillo at the San Diego Bay in 1542. This was the first-time European settlers set foot on the West Coast. This historic landmark in Point Loma offers unique views of the San Diego skyline, Coronado Island, Tijuana, and an extensive view of the Pacific Ocean.
Despite this being a popular location for tourists to come, this park is huge and there are endless photo spots. If you are going for a nautical theme, there is a beautiful old Point Loma lighthouse on the top which dates to 1851.
Dogs are not allowed on the actual nature paths (unless they are service pets) but are allowed leashed by the tidepool. No permit is required to photograph here.
There is a small fee you need to pay to enter the park. We have an annual pass, so if you drive with us, you can avoid the entrance fees.
BELMONT PARK
This is a super cute and historic oceanfront amusement park in Mission Bay that opened in 1925. It even has a local landmark, "Giant Dipper roller coaster."
There are many great photo opportunities both with the rides at the park and the boardwalk. Grab a big cone of ice cream and explore with your better half. If you are looking for a lifestyle engagement session, then this is the perfect location for you.
The parking can be a little hectic so scheduling your engagement photos during the week would be optimal.
PACIFIC BEACH
This cool and laid-back neighborhood is a total beach town. There are plenty of surfers and sunbathers on the beach. It's a cozy small town with plenty of photo opportunities all around.
If you are looking for a beachy, lifestyle feel for your engagement photos, then Pacific Beach is a great option. We can even get the popular Crystal Pier Hotel as a fantastic backdrop in some of your images.
This is a fantastic location for both sunrise and sunset. If you have your engagement session on a weekend, make sure to take some party clothes and hit the night out on the town bar hoping.
CORONADO SOUTH BEACH
This is a "hidden gem" beach. When you get onto Coronado Island, you just have to keep driving South past Hotel Del Coronado to access this beach. Locals go there to cool down as there is always a nice breeze.
If the tide is low enough, you may be able to spot the S.S. Monte Carlo or what's left of it from a shipwreck.
There is no permit required to photograph here. We call this is a hidden gem because whenever we go to this beach, it's never crowded.
MARIAN BEAR PARK
40 million years ago an ocean covered the Marian Bear Park area. There are hidden fossils to be found on this 467-acre preserve. Fast forward to documented civilization, Native Americans inhibited the area.
This is one of our favorite parks in San Diego. This park is full of beautiful nature, from unique trees with big roots (good for dramatic photos) to prairies, and hidden creeks. There are even fields of wild flowers in the spring time along with cute wild turkeys.
Marian Bear Park has a woodsy-rustic feel to it. This is a perfect location for a couple that loves to embark on an adventure.
There is no permit required to photograph here. Also, dogs are allowed – yay! We would avoid coming here on a weekend as the park can be filled with family photos all over.
PRESIDIO PARK
Presidio Park is a 40-acre city historic park. This is the spot where the San Diego Presidio and San Diego Mission settled in 1769. The only historic structure that remains in the park is where the first palm tree was planted. There is a lot of history that went down in this park.
This is a nice hilltop park that offers fantastic views of San Diego. There is a mixture of nature and Spanish style architecture.
We recommend scheduling your engagement photos during the week or at sunrise to avoid the weekend crowds.
OLD TOWN SAN DIEGO
With so many different historic sites all around, Old Town is considered the birthplace of California dating all the way back to 1769. Travel back in time when walking through both original and reconstructed buildings.
This is a cool location for engagement photographs. There is great mix of Spanish and Mexican architecture along with plenty of colorful wall art. Not often do you see an urban hipster feel combined with authentic history.
After your engagement photos, go to one of the restaurants to experience live music and authentic Mexican food.
WATERFRONT PARK
Waterfront Park is walking distance from Little Italy and Sea Port Village. This park has views of the San Diego Bay.
Besides having the little fountains all around, there is the San Diego City and County Administration Building which has cool lines and architecture to incorporate in your engagement photos.
If you have more than one-hour for your engagement photos, consider Little Italy, Sea Port Village, and the Waterfront Park as walking distance options.
SAN DIEGO BAYFRONT
With scenic views of the San Diego Bay and Coronado Island, the San Diego Bayfront is a great option for an engagement session that is more than one-hour long.
We can start by the convention center located right by the Hilton Hotel and walk along the bay capturing both photojournalistic and dramatic photos.
This is a great choice especially if you want to experience a beautiful and romantic sunset.
CORONADO FERRY LANDING
Take the Coronado Ferry from San Diego to Coronado. The cost to get on the fairy one way is $4.75 per adult. The ferry service from the San Diego side begins at 9:00am and the final run is at 9:55pm on weekday and until 10:55pm on Friday and Saturday.
If you schedule an early weekday engagement, you get to ride the ferry for FREE between 5:40am and 8:50am!
From the ferry, you'll have a terrific view of the San Diego skyline.
You can even bring along your bicycles at no extra charge. This would be a great prop for your engagement photos. If you want to include your fur baby, you can bring it along if it's a service animal.
MISSION BEACH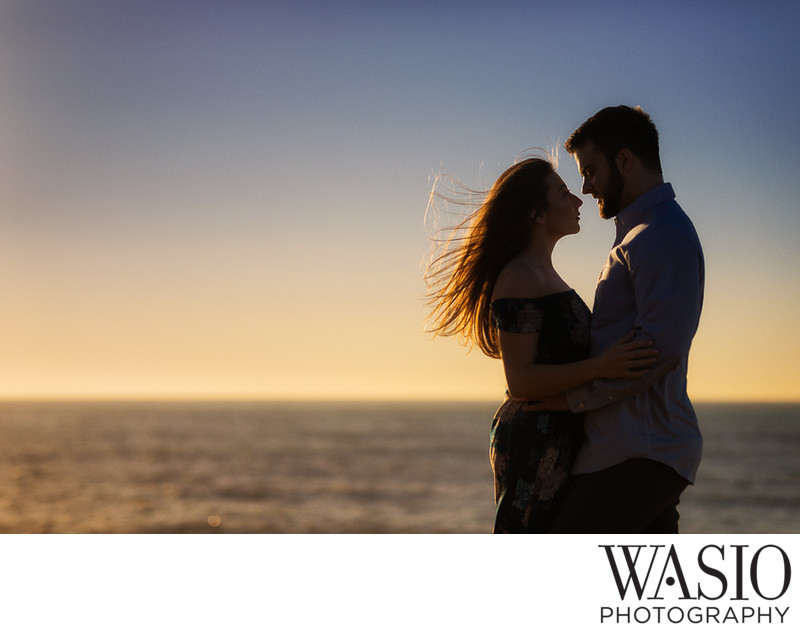 This is the laid-back beach neighborhood we briefly mentioned under the Belmont Park description. The best way to describe Mission beach is as the classic boardwalk beach town of San Diego.
We recommend going along the Mission Boulevard which has plenty of cozy cafes and restaurants to incorporate for your engagement photographs.
Schedule your engagement session in the evening to experience a sunset on the boardwalk overlooking the beach.
LIBERTY STATION
This hip town square used to be the Navy's training Center until 1997. The City of San Diego obtained Liberty Station in 2000. There is a unique mix of history, art, and commerce here.
Liberty Station is the location for a lifestyle engagement photo session. You can start by exploring the landmarks throughout the different courts and finish off with a planned and photo ready picnic just in time for sunset.
CENTENNIAL PARK
Located across from downtown San Diego on Coronado Island. Centennial Park is a hot spot for photo sessions. You can see both the San Diego Bay and the beautiful skyline of downtown San Diego.
Despite this being a popular location, the park is huge, and we can walk around to more secluded areas.
If possible, avoid scheduling your engagement session on a weekend as there are usually wedding photos taken at this location.
DEL MAR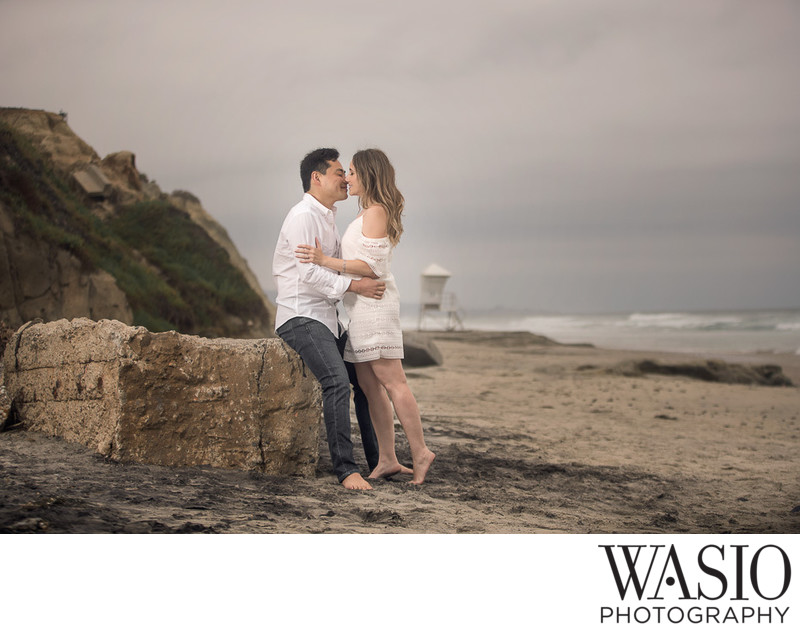 Del Mar is a beach city and means "of the sea" in Spanish. Del Mar is known for it's beautiful beaches and world famous Del Mar racetrack.
There are many scenic locations such as Torrey Pines State Beach, North Beach Area and downtown.
Scheduling your portrait or engagement session during the week would be the best as there is not as heavy of foot traffic.
THE FLOWER FIELDS AT CARLSBAD RANCH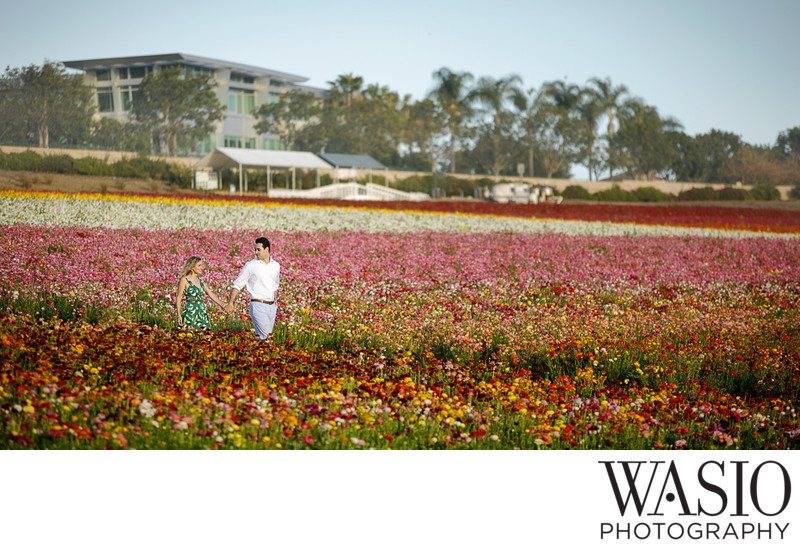 Imagine 50 acres of colorful flowers. This location is a more seasonal one as it is open in the spring time from March 1 – May 10.
Since it is so scenic and seasonal, this is a very heavy with foot traffic location.
When photographing at the flower fields, the rule is that you must have a permit. Otherwise, they kick you out. Also, be cautious not to go into the flower beds. There are specific areas that are open to people stepping into the flower beds.
With the permit, you can get one that allows you to stay one hour after the flower fields has closed to the public. The rule is that all photo shoots must be scheduled from 8:00am – 10:00am and 4:30pm to 6:30pm. It is awesome because the place really empties out and it's just you and the photographer.
Read more about the photography rules and restrictions here.
WINDANSEA BEACH LA JOLLA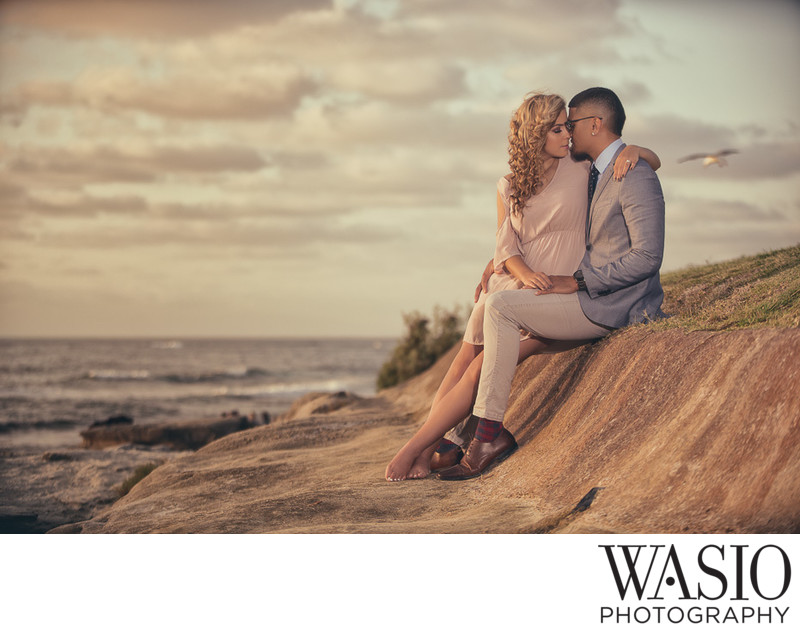 This beach is a scenic coastline in La Jolla. It's the perfect photography spot. Every time we photograph here the beach is always different depending on how high the tide is. In the winter months, the beach is completely underwater and only the rocks are clear for some photographs.
There is so much variety to get at this location. If you are looking for dramatic photographs with an epic sunset, this is a great option for your engagement or portrait session. Even though the beach gets crowded, we recommend the scheduling a sunset session.
This location doesn't require any permits.
Top San Diego Outdoor Locations