TIPS FOR DRESS SHOPPING WITHOUT A HEADACHE
Shopping for your perfect wedding dress is an exciting time! You got your dream partner, the perfect ring and now you just need to find the right wedding dress. We got in touch with California's top rated bridal boutique, The White Flower bridal boutique to give you tips on how to prepare for wedding dress shopping without the headache. The 14 tips below will help you prepare and be ready before you go shopping for your perfect dress along with tips with what to do after you've found your dress.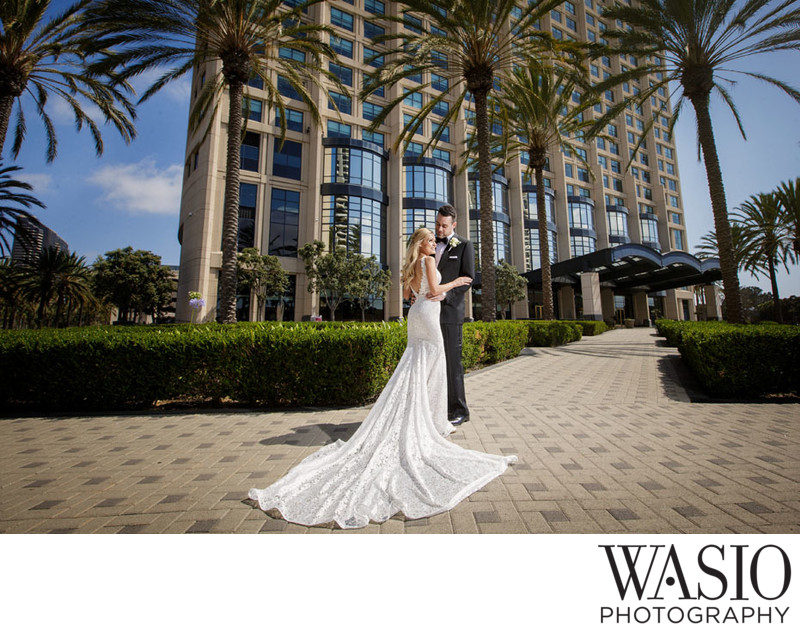 1. Decide on your wedding theme
What's going to be the theme of your wedding? Romantic with soft hues? Vintage? Whimsical? Modern? Here is a helpful link on 20 wedding themes for every bridal style. Figuring out the theme of your wedding will help you understand the kind of style you want your wedding dress to be. Having the dress match your wedding theme or wedding venue will be a huge help when it comes to narrowing down the look you are going for. We aren't saying that your wedding dress has to match the table cloths. If you are getting married at a rustic farm, you may want a more fitted dresses or if your venue is a fancy ballroom then probably a puffy princess ball gown will be a better choice. Once you've figured out the style, you can have an easier time researching your perfect dress. Check out this wedding dress shopping guide from The Knot to get a better idea of the different styles of dresses.
2. Create a Pinterest Board of your favorite dresses

Probably even before you were engaged, you pinned your dream engagement ring and other related things on there. Pinning different wedding dresses will help you narrow down your decision for your dream wedding dress. Most of the dresses that you pin will also have some helpful links to more information on the dresses along with which bridal salons have them and upcoming trunk shows. You can also share your pinterest board with your closest circle of people to help narrow down your decision.
3. Find the right Bridal Salon
Do your research and find a great bridal salon! Saying yes to your dress is a big deal. Take your time on researching where you want to go. Having a top notch experience plays a big role on how you will feel when you'll be trying on dresses. If you plan on going with a bigger group, find out the size of the dressing room area and how many people it can accommodate. We recommend to find a local boutique that carries a variety of designers for a greater selection and has raving reviews. If there are any specific brands that you love, ask the bridal salons if they will be having any upcoming trunk shows. You'll be happy you took the time to do your research! The top 3 bridal salons that come up in San Diego are: The White Flower Bridal Boutique, The Dress Theory Bridal Shop and BHLDN.
4. Make an appointment
Making an appointment goes with the previous point of making sure you have the best experience possible. Most local boutiques are by appointment only. When you set your appointment, you can let the stylist know the kind of style and budget you have in mind. Having a set appointment will help the stylist prepare with wedding dresses along with some bubbly in the dressing room. Also, an appointment is a great idea especially if there are particular dress designers you have in mind. A lot of the bridal salons have trunk shows. Timing is everything!
5. Schedule your wedding dress shopping on a weekday
This may sound wild but if your schedule allows for it, shop on a weekday! Plan to go shopping during the week way ahead of time so if you need to, you can request the time off. If you schedule your wedding dress shopping during the week, your experience will most likely be way different than during the hectic weekend. Would you rather search for your perfect dress while bumping elbows and feeling rushed, or feel like you have the whole place to yourself and all of the time and attention in the world? Also going dress shopping during the week will eliminate inviting a huge group of people to come along with you(if that's what you would like to avoid). This is a great way to make sure that only the closest people come along with you. We know it's not always easy to clear the weekday schedule. After you go dress shopping, make a nail appointment to get pampered with your girlfriends as a way to celebrate!
6. Don't exhaust yourself

Looking through dresses and then trying them on is A LOT of work. It is likely that you will feel exhausted and overwhelmed. Exhaustion sucks! To not feel extra exhausted, avoid planning to go to a million places in one day. Remember, you are on the search for your perfect dream wedding dress! This is not a matter that needs to be rushed or overbooked. It is totally normal to spread out your appointments over multiple days. Don't let being exhausted or overwhelmed mix with your decision of saying yes to your dress. If you find the dress you love on your first appointment, be open to sleep on your decision before making an official decision.
7. Bring only important people

Probably when you are envisioning yourself wedding shopping, you see all of your fabulous friends and family by your side. It can be very exciting but can also lead to opinion suicide! It's recommended to invite up to 3 of your closest confidants whose opinions you truly trust. The less opinions you'll hear, the closer you will get to saying yes to the dress! I know it may sound cray-cray but the less people you have with you the more relaxing the dress shopping process will be. Your friends and family will be very understanding that you want to keep this as an intimate experience. You can ask your friends to take lots of pictures of you in the dresses you try on so you can share with the people that couldn't make it. Seeing how the dress looks on you in photographs will also help you make the decision with which dress to go with!
8. Be open minded

Bring some pictures and wedding dress inspiration to your appointment. Even if you have a specific style in mind, be open about trying on different styles for comparison. Trust the stylist you are working with! You may be surprised by how a dress looks different on a hanger compared to how it looks on you. Besides trying on different fits of a dress, try on different materiel like tulle, lace, and silk to see what you like best. Another decision that is to be made is the color of the dress. Here's a link to 83 colorful wedding dresses to show that you don't have to choose just white!
9. Wear proper lingerie
I never thought of this one before, but it's kind of an obvious point. When going dress shopping, avoid wearing lingerie that has some crazy patterns and bra straps. We recommend to bring all nude lingerie with you including a strapless bra. Bringing spanx is a good idea too! We think you will find this article on how to buy the right wedding lingerie for your dress very helpful! Also, while you are dress shopping, you may spot the perfect lingerie that will go with your dress. If you love it and feel comfortable, make sure to get some photographs of you putting on your dress with your wedding photographer.

Bring along heels to your appointment. Even if you don't have your wedding shoes yet, bring shoes with the heel height you have in mind to wear on your wedding day. Heels work their magic on the silhouette of the body. Wearing heels will also help you get an idea of the kind of length that works the best for you. Bring different heel heights to your appointment to see what works best and is the most comfortable.
11. Don't forget your family heirlooms
A great way to implement the "something borrowed" on your wedding day is to have a family heirloom. If you have a veil or a brooch or anything that is a precious heirloom that you want to include as part of your wedding day outfit, bring it with you! It will be helpful to have the heirloom to make sure that it's a right fit with your dream wedding dress. If you wear an heirloom veil, it will be extra important to bring it along to make sure it matches the color and style.
12. Plan for alterations to take time

This is an important one! From the moment you find your dress and place your order it all takes time. Most boutiques take about 8 months for the dress process. What does that mean?Well, it takes about 6 months for your dress to arrive at the boutique and then the other 2 months are dedicated to alterations and making sure the dress fits you like a glove. So the earlier you can start dress shopping the better! Sometimes the dress does arrive earlier than 6 months but it's better to be safe than sorry.
13. Leave the plastic hanger behind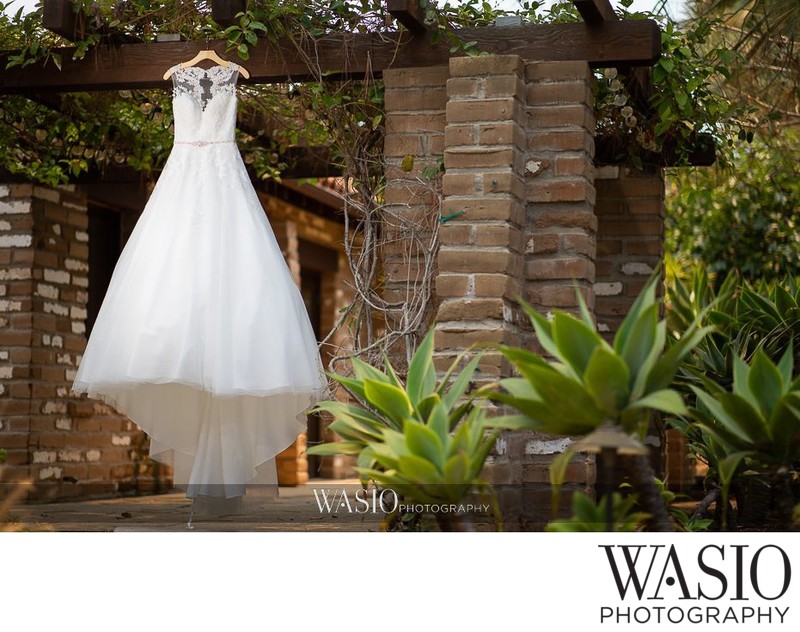 Having the experience of photographing thousands of wedding dresses over the last 10 years, there's one major detail some brides forget about: hangers! So much money is invested into the wedding dress; and hanging it on a plastic hanger doesn't do it any justice. We recommend getting a simple wooden hanger or a custom hanger with your new initials. You can get a beautifully customized hanger on etsy for you and your bridal party!
14. Have Fun!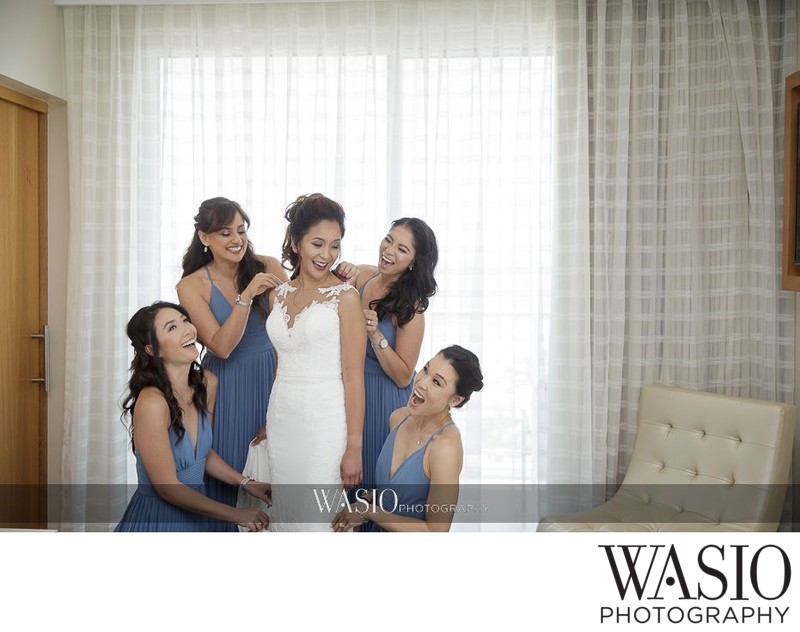 Wedding dress shopping is a very emotional and wonderful experience. Enjoy every moment of this experience and remember to have fun! It's not an everyday occasion where you go on a search for your perfect dress with the most important people in your life. Being the center of attention is fun! Take it all in and embrace all of the love and attention.
We hope you enjoyed these tips on wedding dress shopping. Please contact us to see if we are available for your wedding!
Tips for Wedding Dress Shopping