Everything You Need To Know About Wedding Cakes
Did someone say, "Cake?!" If you're feeling overwhelmed by that to-do list your Wedding Coordinator gave you but feel guilty for ignoring it completely, you've come to the right place!
We're talking all things Wedding Cakes here so think of this as important research that you're diligently accomplishing. By the time you finish this article, you'll not only be an expert on the topic, but you'll also be ready to check another thing or two off your list! We also wrote an extensive Reception Timeline Guide article that may help you even more with your wedding planning.
Warning: Reading this article may cause mouthwatering sensations, dessert daydreaming, and/or a sudden, immediate cake-craving.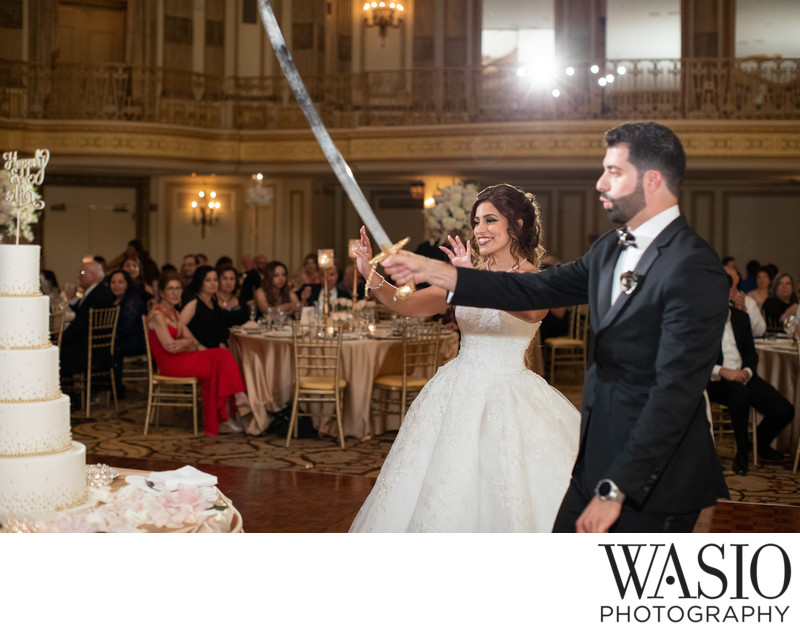 A Brief History of Wedding Cakes
Ever wonder when Wedding Cakes became a thing? It turns out they've been around since ancient Rome; literally. Here we share a brief and condensed version of the evolution of the Wedding Cake.
Ancient Rome. It wasn't so much cake as it was barley bread. A wedding would conclude with the groom breaking a loaf of barley bread over his new wife's head. (If that doesn't say romance, we don't know what does!) Some say that this form of "breaking bread" signified the end of the bride's chastity and the beginning of submission to her husband. Others believe it symbolized good fortune for the newlyweds. Wedding guests would dash to the floor, collecting the crumbs so they could take home some of the happy couple's good luck.
Medieval England. Small spiced buns were stacked sky-high challenging the bride and groom to share a kiss over the tower without knocking it over. It was believed that if they successfully completed this task, they'd share a lifetime of prosperity together.
Late 18th Century. Tiered cakes made their debut when the apprentice of a baker in London fell in love with the bossman's daughter. He knew he had to do something grandiose when he proposed to her and thus, multi-level cakes were born. The things we do for love!
Present Day. Today's brides and grooms have the luxury and freedom to offer the dessert of their choice with no hard and fast rules or superstitions to obey. A Wedding Cake can look or taste almost any way a couple chooses so the options are practically endless.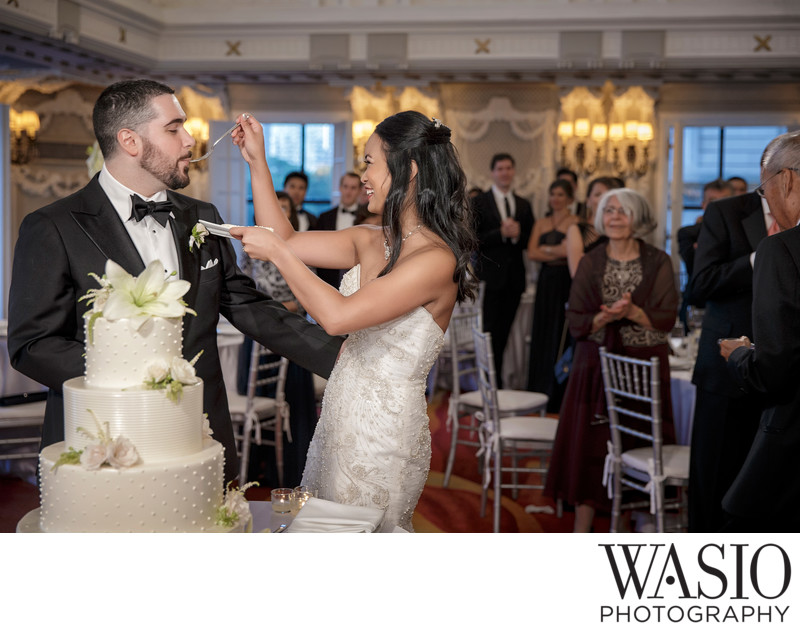 Ordering Your Wedding Cake
As Bernie Horan of Twiggs Bakery & Coffeehouse in San Diego says, "This is a fun time in your life. Enjoy the process." We couldn't agree with him more! To keep the ease and fun associated with ordering your wedding cake, we've done some of the legwork for you and asked a few of the top Bakeries in San Diego and Orange County the questions you'll need answers to.
When should couples order their wedding cake?
The sweet spot for ordering a custom wedding cake is 6 months before your big day. Keep in mind that depending on the city you'll be getting hitched, certain months will be much busier than others so reaching out to your bakery of choice sooner versus later is recommended. The luxurious bakery, Grace and Honey Cakes, located in Orange County notes that they are most busy from May through October. Across the board, the bakeries we spoke with said that if they are able to accommodate a last-minute request, they will take it on. Still, the more time you give them the better. Helpful Stat: According to our bakeries, the average time to place your cake order is between 3 and 6 months prior to your wedding date.


Should you eat before cake tasting appointment or come in on an empty stomach?
This is an area of personal preference, but most bakers recommend having eaten a light snack of substance about an hour or so before you come in. Some bakeries provide over 15 samples and though they are small, that's a LOT of sugar consumption!
What information should you know prior to placing you cake order?
At minimum, have your wedding date and venue set before you place your cake order. Additional information such as guest count, design desires, whether the cake will be showcased indoors or outdoors, and the time the cake will be served are all very helpful. The more information you can share with your bakery, the better!
How long does a cake tasting last?
Depending on the bakery, a tasting can take anywhere between 45 minutes up to an hour and a half. Typically, a tasting will last about 1 hour. Some bakeries offer to set your tasting up "to-go" style so you can take your time with the flavors at home. There are advantages and disadvantages to this option but if it is something you and your love would like to entertain, be sure to ask the bakery about it when you schedule your tasting.


What are some of the most popular flavors that your customers order?
We aren't sure if this answer will be very helpful because when you ask some of the top bakeries in Orange County and San Diego this question, the variety of responses received are enough to make you grab a fork and make a b-line to your closest cake shop. Each bakery has their own unique flavors though some traditional options overlap; we're talking about you, "Strawberries and Cream!" Also, depending on the season, you may have a whole new array of deliciousness to choose from making it even harder! Here's a list of the most popular flavors in alphabetical order according to our top-notch bakeries:
| | | |
| --- | --- | --- |
| Blackberry Walnut | Lavender & Lemon | Red Velvet |
| Carrot | Lemon Poppy | Spice Cake |
| Chocolate | Nutterbutter | Strawberries & Cream |
| Chocolate Salted Carmel | Passion Fruit | Strawberry Bagatelle |
| Coconut Mango | Praline Cream | Tiramisu |
| Hazelnut | Pralinkso* | Vanilla |

*Pralinkso: a dark, moist chocolate cake layered with creamy hazelnut dark chocolate mousse is an "all-time favorite" featured at The French Gourmet in San Diego.


For customers with dietary restrictions, what information should couples provide bakeries in order to accommodate their needs?
If you, your partner, or any of your guests have dietary restrictions that you intend on accommodating at your reception, it is very important to talk with your baker about this right away. Not all bakeries are able to honor certain special requests (i.e. gluten free, kosher, nut free, etc.) so before you go too far down the path, be sure they can assist your needs. Ask specific and direct questions when talking with the baker. If your first bakery of choice is unable to assist with your specific needs, it is highly likely that they will recommend another local bakery who can. Now isn't that sweet?!
What additional information should couples should know?
Here are a few of the top answers we received from some of Orange County and San Diego's best bakers:
The more people you bring to a tasting, the more opinions you'll have floating around. Whenever possible, it's recommended that couples do their cake tasting as a couple.
Tara Konitshek from Sweet As Bliss says, "Start a Pinterest board of cake ideas that you love in addition to your theme, colors, photos/art that inspires you, even if they have nothing to do with cake! Send over your invitations, detail shots of your dress, and other decor! All of these will provide inspiration in creating your dream cake or dessert table! I love (as well as many other bakers) creating something unique to you and your significant other rather than copying another design!"
"We like to inform people that it is generally not any cheaper to have a fake cake and sheet cake since we still have to decorate the fake cake." – A helpful tip from Jenny of Jenny Wenny Cakes.
Have a good idea of what you want and don't want with regard to flavors and design but also be open to suggestions; the baker, after all, is the expert. They may blow your mind with something you didn't know existed.
Patty's Cakes and Desserts in Orange County provides helpful answers to over 20 questions posed on their FAQ page. Visit the websites of your favorite bakeries in town and start doing some research today!


Allergy Etiquette
Whether you plan to fully accommodate food sensitivities or not, labeling your desserts is a helpful gesture for your guests. Small and simple signs stating, "nut free," "gluten free," or even "not allergy sensitive" let your friends and family know on a high-level what they're being offered. Remember that it's your wedding and you can't please 'em all so even with this polite expression of etiquette, someone may still badger your servers or muffle complaints about your selection. Don't let any of that bother you. If it does, have another piece of cake; you'll feel much better!


Cake Toppers
Back in your grandmother's day, wedding cake toppers were pretty uniform with very little variety. Toppers featuring a bride wearing a white dress with a veil and a groom in a black tuxedo were figurines made from porcelain or plastic; there's your variety.
In today's world of custom Etsy creatives at the ready, engaged couples' limit is but the sky when it comes to finding their perfect wedding cake topper. Topper options include figurines to look like the wedded couple, their favorite characters, themselves as their favorite characters, a humorous take on getting married, monograms, full names, wedding logos, family pets, quotes, fresh flowers, hobbies, sparklers, and pretty much anything you can think of. Wedding cake toppers can be custom made to reflect the couple, their wedding's theme, or whatever they want.
Do you need a cake topper? No! As with everything else wedding-related, couples can do what they want and omit what they don't want.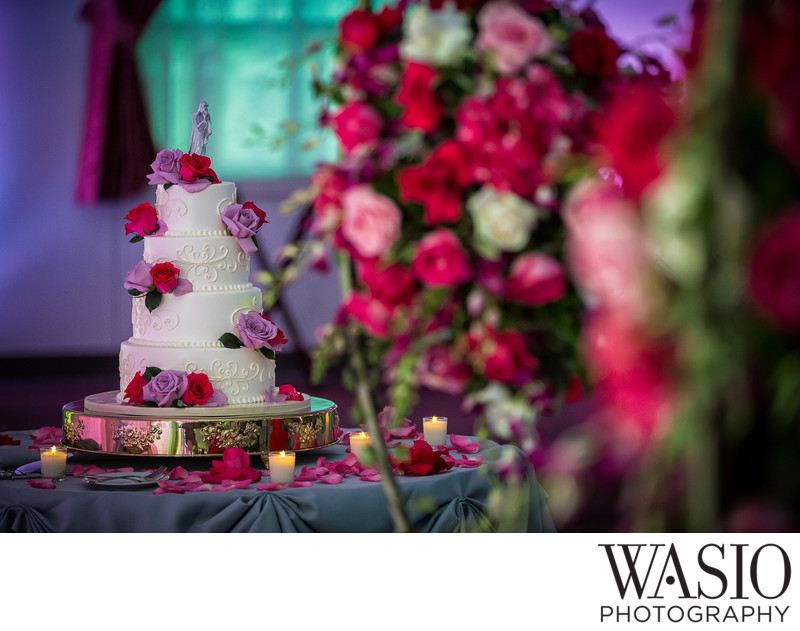 Cake Cutting; When to Do It and When to Serve It
Back when weddings were a bit more rigid with rules, newlyweds cut their wedding cake at the very last moment during the reception. This was the cue to let guests know that they were welcome to head home. Cake cutting usually happens much sooner than at the end of the party these days, but for some of your older guests, the symbolism is still alive and well. Here are some options to consider when choosing where to put "cake cutting" on your day-of timeline:
Grand Entrance. This is arguably the earliest time possible to cut your cake. Picture your DJ introducing your wedding party and then announcing you and your main squeeze for the first time as husband and wife (or wife and wife or husband and husband). The two of you walk in to your reception with roars of applause. With all eyes on you, you head straight over to the cake table to do your cutting and once that's done, head onto the dancefloor for your first dance.
First Dance. Similar to the Grand Entrance route in regard to doing the deed ASAP, this spin on it would have you first taking a spin on the dancefloor, and cake-walking over to the dessert table when your song's over. All eyes are still on you without disrupting the flow of your party.
After Toasts. If cutting the cake within the timespan of your grand entrance feels too rushed, consider doing it after your Maid of Honor and Best Man have given their toasts. Usually this happens as dinner is wrapping up and just before the dancefloor opens up so it's a great time to cut your cake.
Party Pause. Maybe you want to get the party started and let your guests dance up an appetite again after that amazing meal you and your caterer brought to life. Have your DJ announce to your guests that the cake cutting is about to go down. If you want a soundtrack for this moment, you can have a soundtrack for this moment. You do you!
Confidential Cutting. Maybe you don't want to make a big fuss about cutting the cake but you'd like to share a private moment with your love. …and your photographer, of course. You welcome a break from having all eyes on you or maybe you just don't want to stop the dance floor. You and your coordinator can plan a time to sneak away and cut your cake without the added hubbub. One caveat to keep in mind: though this is your day, your mother and mother-in-law may want to be present for this moment. Consider telling them in advance to avoid the possibility of hurt feelings or FOMO (fear of missing out).
The End. If you want to give Grandma an excuse to stay out past her bedtime or you simply like to honor tradition, cutting your cake at the end of your reception is still an option.
There are a few advantages to cutting your cake early. It guarantees that your photographer captures the moment without a crowd of people swarming around you. Speaking of your photographer, depending on how many hours you've booked with them, waiting until the end of your reception to cut the cake invites the potential of them missing this photographic moment or opens the possibility (along with your wallet) of having to pay for additional hours. Another benefit is that it gives your catering team extra time for slicing and serving.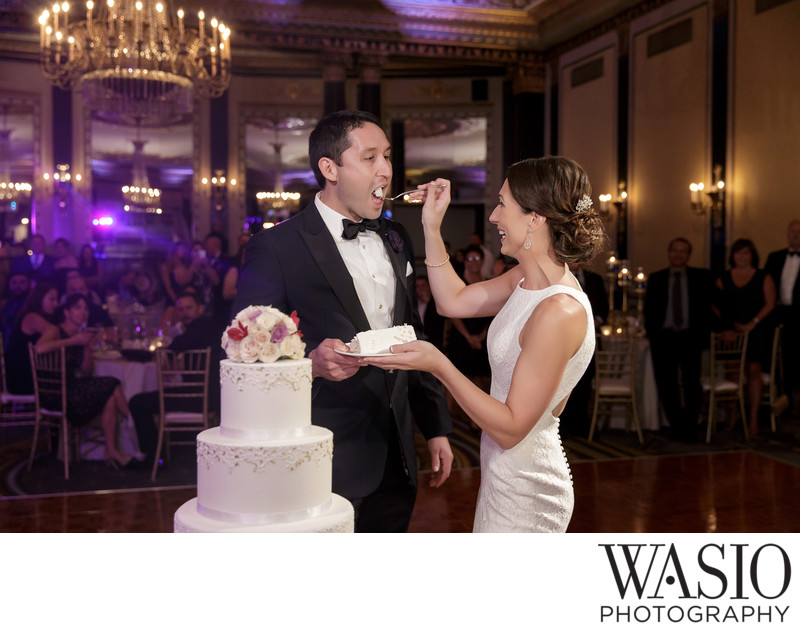 Cake Smashing; Pros and Cons
It isn't easy to pinpoint when this light-hearted or mean-spirited (depending on your perspective) custom began but it's been around for several decades. Everyone has an opinion about whether you should or shouldn't do it but once again, the choice is yours.
Pros. Cake smashing adds elements of anticipation (will they? won't they?), surprise, excitement, and humor for your guests. Think of the hilarious photos your photographer will capture. Think of your future children and grandchildren one day delighting in the fun of your special day. It's a great time for you and your partner to let loose and get silly together after a long, yet wonderful day.
Cons. You may not care what other people think but some believe that couples who cake smash are doomed for divorce. Some feel it shows a lack of respect for one another. You run a high likelihood of getting your wedding wardrobe dirty. It's a waste of delicious, and not to mention, expensive cake.
One thing's for sure, you'll definitely want to discuss and decide whether you're going to do it or not with your partner before the big day. Don't leave it to chance or assume you are on the same page. If one of you wants to and the other doesn't, it's a good idea to skip it. If you both decide to go for it, you'll also want to agree upon the amount of mess and the level of enthusiasm when smashing, again, before the big day. Oh, and have a few napkins handy!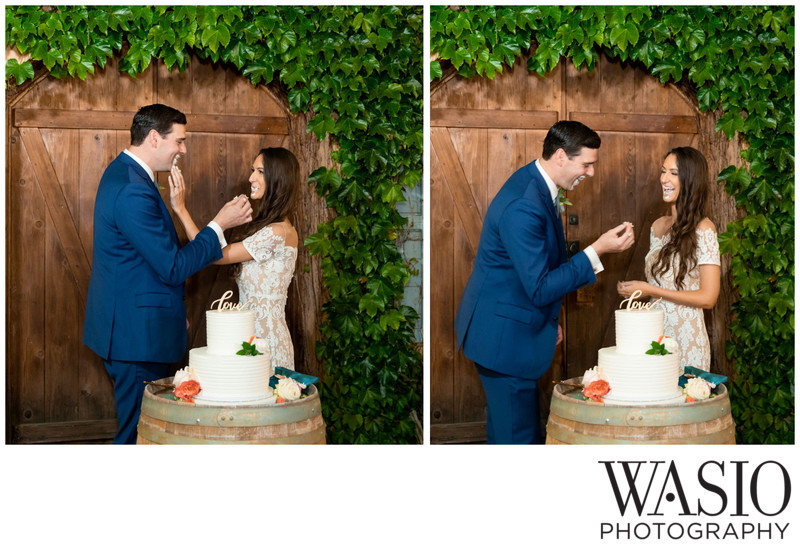 Fork or Spoon?
When we said, "Everything You Need to Know About Wedding Cakes," we meant Everything! This is a simple and possibly arbitrary aspect to cake consumption but if you were ever curious about what "Betty Etiquette" has to say, we got you. According to "Etiquette Scholar" (Betty was unavailable to interview), the type of cake dictates the utensil to use.
Dry Cakes. Forks and Spoons need not apply when eating dry, crumbly cakes like pound cake or cupcakes. Believe it or not, all you need are your fingers to break small pieces off and pop them in your mouth. You may want to just go ahead and use a fork for this one though.
Moist Cakes. Cakes with any sort of filling that have a moist consistency are paired nicely with a fork.
Ice Cream Cake. No surprise here, we imagine, but here's where the spoon makes its wedding day debut. Cakes with extra saucy filling like pudding could be spooned as well.
If you aren't too concerned about which utensil people use for your dessert, go ahead and leave this ball in your serving team's court; they will present your guests with the appropriate utensil.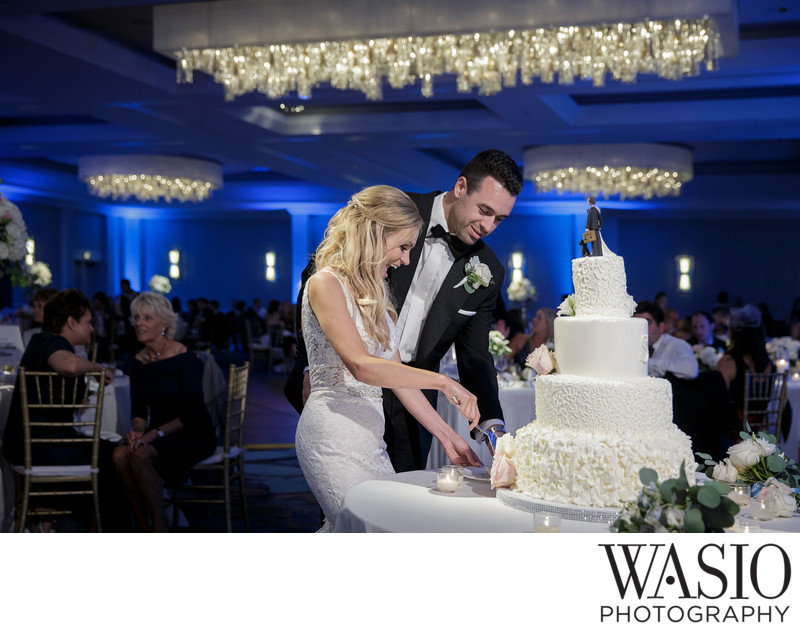 Saving a Slice
The practice of saving and freezing the top tier of a wedding cake dates back to the 19th century. There was a practical purpose for this. Couples were highly likely to have their first baby within the first year of getting married. They saved and froze the cake to serve at the new baby's christening. Many of today's couples aren't so quick to start a family but the tradition holds up. Newlyweds enjoy digging in to a literal piece of their wedding day on their first anniversary.
If you decided to save a slice or the whole top tier of your wedding cake, let your baker and your caterer know. The baker can bring a box to use for storage when they deliver your cake. The caterer will A) not accidentally serve it to your guests and B) use their expertise in properly wrapping it up to withstand a year in your freezer. Caveat: if you believe there is a possibility of moving within the first year of getting married, maybe make arrangements with a family member or close friend to have them bring your cake home and store it for the next 365 days.
Maybe the idea of eating year-old cake doesn't appeal to you. Just contact your original bakery and ask them to bake you a small cake with the same flavor options as your original wedding cake. They'll be happy to do it and you'll be happy to be eating fresh food!


Wedding Cake Alternatives
So you're not big on cake, huh? Not to worry! You don't need to have a Wedding Cake at your wedding. We promise your nuptials will still be binding if you opt out of this particular tradition. Consider some of these not-so-typical options to serve up at what's sure to be the most delicious party of the year!


Baby Cakes
Maybe you want to have one small cake just for you and your love to share, or a lot of small cakes for guests to grab and go. Or maybe you want a dessert that looks like cake but isn't. How about presenting any of these tiny treats on your dessert table:
| | | |
| --- | --- | --- |
| Cupcakes | Whoopie Pies | Macarons |
| Cake Pops | Bundt Cakes | Tarts |
| Pie Pops | Brownies | Cookies |
Towers and Stacks
It could be that you want to keep the drama of a multi-tiered display without committing to an actual cake. You can have your "cake" and eat it too with any of these delicious and colossal treats:
| | | |
| --- | --- | --- |
| Cannoli Tower | Churro Stack | Croquembouche |
Breakfast Lovers
They say that breakfast is the most important meal of the day and your wedding day is one of the most important days of your life so why not "marry" the two? If you are looking to serve something outside of the box at your reception while still offering your guests something sweet, feast your eyes on these:
| | | |
| --- | --- | --- |
| Doughnut Wall | Cinnamon Roll "Cake" | Pop Tart Tower/Stack |
| Doughnut Holes Tower | Stacked Pancakes | Crepes |
| Oversized Doughnut "Cake" | Stacked Waffles | French Toast Tower/Stack |
Childhood Favorites
Wedding planning getting you in the feels with nostalgia? Honor your favorite childhood memories of when life was innocent and sweet by featuring these goodies:
| | | |
| --- | --- | --- |
| S'mores | Rice Krispy Treats | An Ice Cream Bar |
| Jell-O | A Candy Bar | A Milk & Cookies Bar |
*Bonus: Any of these childhood favorites could be spiked with your favorite adult spirits for an added kick! If you do this, you'll want to let Grandpa know because it could potentially interfere with his meds. 😉
Savory
Looking for something a bit more "hearty?" We've got ideas for the duo who wants a Wedding Cake alternative because they simply don't like sweets. This is the power couple who doesn't want alternate dessert ideas. They want to give a nod to the tradition of a Wedding Cake without all the sugar. The following options can be embellished and presented as tired "cakes" or individual treats for a true dessert alternative:
| | | |
| --- | --- | --- |
| Cheese Wheels | Tiered Pizza | Baby Lasagna "Cupcakes" |
| Pork Pie | Sushi "Cake" | Bride's Pie (google it) |
Fiesta
We've saved the best for last! If after reading all these cake alternative suggestions you still aren't quite sure what you want to dish out, here's one last idea to consider: Surprise your guests with a cake-shaped piñata! Think of the fun and the amazing photos you and your new spouse would have of the two of you whacking a piñata filled with your favorite treats (edible, drinkable, or otherwise). It's a great way to start the dance floor for your reception or Hora Loca (crazy hour) if you really want to turn up the fun!
Groom's Cake
The Groom's Cake used to be presented as a wedding favor, not a quirky add-on to an otherwise formal-looking dessert table. Single ladies, this one's for you! Slices of the Groom's Cake would be boxed up and offered to dateless dames who'd take their confection home. The women were supposed to sleep with the cake under their pillow the night of the wedding in hopes of dreaming about their future groom; hence the term, "Groom's Cake." It sounds like a messy way to find a boyfriend but hey, whatever works!
Some contemporary brides and grooms alike have ditched the man-manifesting superstition for a sweet, sentimental surprise to bestow upon their other half. Groom's Cakes today are custom designed to honor one or some of their favorite person's favorite things. Beloved sports, hobbies, animals, pop culture references, food, drinks, or any other special interest your beloved has, there's a bakery in town who'd love to design him or her a cake!
Don't stop at the design though; flavor choice can be just as surprising as the exterior. The traditional Southern Groom's Cake flavor is red velvet (remember the Armadillo cake in "Steel Magnolias?"), but you can get creative on your flavor(s) of choice. Groom's Cake flavors can run the gamut through the alphabet infusing your sweetie's sweets with Alcohol, Bacon, or Curry, all the way through Xni Pec, Yuzu, and Zucchini. Have fun with deciding on flavors but keep in mind that ultimately, the cake should be eaten.
Groom's Cake can be served at the rehearsal dinner, displayed at the reception, or offered at your wedding brunch. As with the design and flavor, the choice is up to you.


Icing on the Cake
If you made it through this article without pausing for a sweet treat, we applaud you! …if you didn't, we're right there with you! Who knew there was so much information and logistics to consider about wedding cakes? We hope that you feel better-informed about when to place your cake order, what questions to ask your baker, how to make the cake your own with unique flair, and when to cut and serve it at your reception. We also hope that you are ready to check another box on your seemingly ever-growing wedding to-do list. Whether you and your partner decide to order a cake, a giant doughnut, an assortment of cookies, or all of the above, just be sure to enjoy the process, choose what you want, and keep things simple; this part of the planning should be a piece of cake!
If you are curious about how to pair your cake with wine, we found this interesting and thorough article 13 Cake and Wine Pairings to Elevate Your Wedding Menu
Everything About Wedding Cakes