Class of 2021 - LA Colleges


LACCD Class of 2021
Portrait Sessions!
Congratulations to the LACCD Class of 2021! Super excited to offer our fine art Graduation Portraits!
Limited spots available on selected days in March and April!
WHEN THE SESSIONS WILL TAKE PLACE?
The sessions are available on selected days in March and April! See our scheduling below to see all available days and times.
WHICH GRADUATES CAN SIGN UP?
Any Class of 2021 Graduates from the Los Angeles Community College District!
IMPORTANT: we welcome immediate family of each graduate but this year we need to limit family members to 5 people.
WHERE THE SESSIONS WILL TAKE PLACE?
The sessions will take place in our spacious studio in Santa Ana at 3633 MacArthur Blvd, Santa Ana.
Here is a short walk-through our studio
WHAT'S INCLUDED IN THE SESSION FEE?
All Graduation Portrait Sessions include:
Photography by Professional Photographers of America's Master of Photography - Yaneck Wasiek
Posing & expression guidance for natural and fun portraits
Highest professional grade photography camera and lighting
Accurate colors of all your photos
One high-resolution digital photograph from the session
Additional digital photos and prints can be purchased during the session. Below are the prices for the additional digital files:
1 photo - $50
5 photos- $225
10 photos - $450
15 photos- $525
20 photos - $600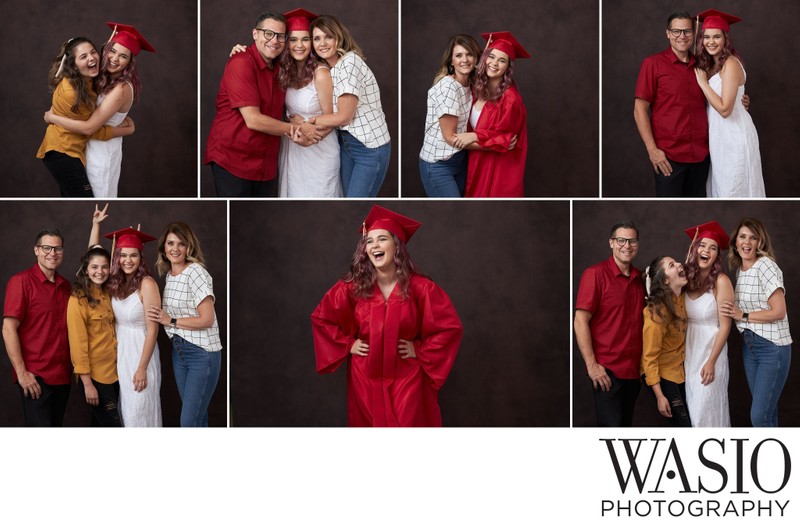 IS THERE LIMITED NUMBER OF SESSIONS AVAILABLE?
Yes, absolutely! Only selected days in March and April are available.
SCHEDULE BELOW YOUR GRADUATION SESSION
SAFETY GUIDANCE
Thanks to our spacious studio we will be maintaining social distancing during all the sessions. We will allow only two graduates/immediate families at a time - one graduate in the studio, and one graduate in our lounge area.
We will be wearing a mask when coming closer to make any adjustments.
Needed areas in the studio will be cleaned and disinfected after each session.
Hand sanitizer will be available in multiple places in out studio.
DO YOU HAVE ANY QUESTIONS?
Call us at 949-529-0512 or email us at info@wasiophotography.com