Style Guide for Fall Family Portraits
Style Guide for Fall Family Portraits
Everyone's favorite time of the year is when the leaves start to change, and there are pumpkin spice lattes all around! This also means it's time to get new fall family portraits of your family for the upcoming holidays. We know the weather is still warm and lovely, but it's better to be organized with how to approach fall family portraits to ensure you don't have to stress out the day before the scheduled photo session.
We created a fall 2023 style guide for family portraits to make your lives easier! This is a good source of understanding what colors go together, what kind of accessories to wear and which ones to avoid, and how to coordinate so each family member stands out in their way.
How do I choose what colors to wear for family photos?
The global Pantone Color Institute experts announced the year's new color in early December. This year's color has been Viva Magenta. This color has been seen all around the fashion world and in stores such as Zara. I've been the victim of falling for the trend color myself by being unable to resist some of the fun blazers Zara released earlier this year. As fun and exciting as Viva Magenta can be, it is not a suitable color for everyone.
So, if you don't want you and your family to rock the color of the year, that's totally fine. We have other fashion advice up our sleeves.
In terms of color selection, you can go a few directions. You can be the type that's enthusiastic about the rich colors of the fall palette. These would be colors like deep reds, oranges, and earthy tones like brown and forest green. We've seen it before, and when done correctly, it's cute.
There's also the option of a more timeless look, which includes coordinating neutrals such as cream, beige, and gray that will complement the fall palette and provide a nice balance in the photos.
Whichever route you take, coordinating colors is important for a harmonious look.
We found this website an excellent source for a super-fast color palette generator.
Here are outfit color combinations that will make your family stand out: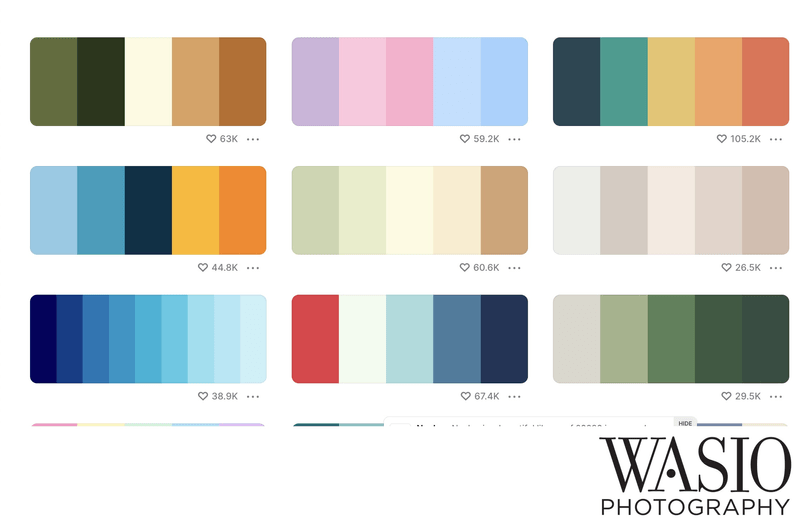 What is best to wear for family photos?
Pick an outfit that fits you well and makes you feel comfortable. Comfort is essential and should always come first. It helps you look and feel more natural in front of the camera.
Fitted clothes are more flattering in photos. Loose-fitted clothing can make you look bulkier than you are.
We recommend wearing long sleeves or something that covers part of your arm. This gives an excellent shape and form, and the photos can be more universal besides being used for the holiday card.
If you like to be extra, you can wear something strapless or whatever else screams your personality. Just make sure that it fits well ahead of time.
Think about layering your outfit. For example, adding a blazer, jean jacket, or leather jacket is an excellent accessory for more outfit variety.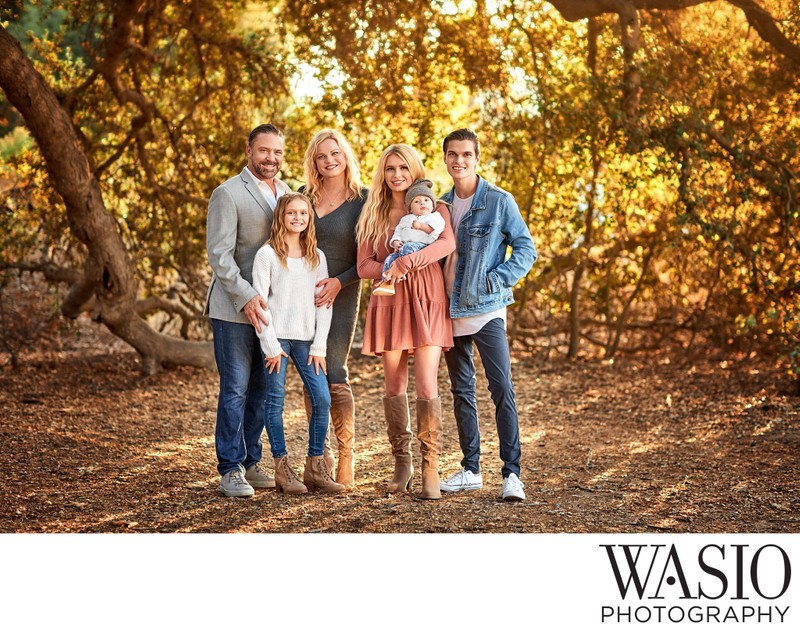 Another optional accessory is a hat. I'm not talking about your favorite lucky sports hat. It's more like a rancher hat from a brand like Lack of Color or Gigi Pip. This can add a nice pop to your family photos. They also have the most precious matching "mommy & me" hats.
Don't forget about deciding on the type of shoe you will wear for your family portraits. Shoes are the final addition to what makes an outfit whole. Some people create their outfits based on their shoes. If you have a dressy outfit, don't wear beat-up sneakers. We want to avoid any reason to look sloppy in photos.
What outfits and accessories should I avoid wearing to family portraits?
Firstly, to make the photos look nice and cohesive, it's essential to think the outfits through for you and the family ahead of time. Family photos are integral to documenting your family; you don't want to look like you and your family threw something together last minute.
Make sure to try clothes on before the day of your family photos. Everything should be well-fitted and clean. If there are any stains, wash or dry clean your outfit to have it on time.
Do not bring clothes that are too loosely fitted or have stains. It will look sloppy in photos.
Avoid articles of clothing that can add additional weight. For example, chunky scarves make most people look heavier than necessary in photos. Also, bulky jewelry can be distracting and make your photos look less timeless.
You've already put so much effort and thought into your family photos; make sure your overall look is well put together and complete. If you have beat-up shoes, please don't wear them to your family photos. It will stand out in a not-so-positive way.
We recommend working with a personal stylist to help make sure you and your family have cohesive, well-fitted outfits that make you look the best version of yourselves.
Style Guide for Fall Family Portraits